Award-winning managed service providerAppia Communications, Inc., today announced jointly with Grandstream Networks, the leading manufacturer of IP voice/video telephony and IP video surveillance solutions, that certification of Grandstream's IP Voice and Video solutions is complete. Interoperability benefits small- to medium-sized businesses (SMBs) and large enterprises by assuring Appia's IP-based service applications, which increase productivity, improve care and reduce costs, can seamlessly integrate with Grandstream's IP phones, analog telephone adaptors (ATAs), and analog gateways for high quality HD audio andvideo communications.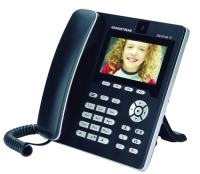 Grandstream's GXP Series of Enterprise SIP telephones provides affordability, best-in-class HD audio, a comprehensive set of advanced call features, multi-language support, security protection, simplified management and automated provisioning with TR-069 or HTTPS, advanced XML customization and more. Over a dozen GXP phone models are available ranging from single line to executive 6-line HD phones with integrated PoE. For cordless applications, the DP715 or DP710 DECT Phones are an affordable choice with VoIP mobility and advanced VoIP security. For users seeking a more sophisticated IP video telephony desktop phone, the GXV3140 and GXV3175 IP Multimedia Phones bring innovation and integration of standard based HD IP telephony with high quality real-time videoconferencing, online rich media infotainment service, social multimedia and business productivity applications. Appia also certified Grandstream's family of Analog Telephone Adaptors and Analog Gateways. 
"We're delighted to include Grandstream with the providers we support," said Victor von Schlegell, president of Appia. "In addition to being affordable and of high quality, Grandstream products extend the range of choices our customers have to find the devices that best meet their needs."
Appia's managed solutions help customers to realize the many benefits of IP technology for far less than the cost of in-house implementation. It's been recognized as one of the fastest-growing private companies in America (Inc., 2007-2011), one of the fastest-growing providers in the technology industry (CRN, 2009-2011), and one of the top worldwide managed service providers (MSPmentor, 2009-2011)."
Appia's success helping customers realize the application-rich, resource saving benefits of a hosted IP environment mirrors Grandstream philosophy that IP-based telephony solutions, including HD voice and visual communications with video conferencing applications, are highly flexible for evolving business needs at an affordable investment," said David Li, CEO of Grandstream Networks. "We're pleased to partner with Appia to add value and provide an enhanced desktop phone user experience for everyone in the organization, from corporate headquarters to remote workers located throughout the world."
 Share this story with your friends or work colleagues.  If you want to stay up to date with our latest products, industry news and offers you can sign up to our monthly newsletters, keep up to date with us on Facebook or follow us on twitter @VoIPon.