Grandstream have announced that TMC, a global, integrated media company, has named the Grandstream GXP2200 IP Phone for Android recipient of the 2012 INTERNET TELEPHONY Product of the Year Award.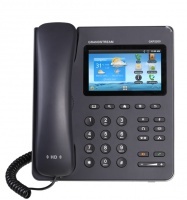 The GXP2200 IP Phone for Android is Grandstream's first open sourced IP phone and one of only a handful of IP Phones in the world running on the Android platform. This new smart HD desktop phone adopts many mobile phone conveniences and transfers that user familiarity to the desktop. The phone blends innovative IP telephony with a wide variety of advanced Android apps. Any vertical industry business with a premise or cloud-based solution for voice communications can now easily create and deploy advanced personalized or custom business applications on the desktop phone for enhanced communications, security, as well as better productivity and customer service. Personalizing business apps is groundbreaking for IP desktop phones. Ways organizations can use custom app development to benefit their business in the hospitality industry, for example is to build an app to allow guests to checkout, order room service, make a restaurant reservation, canvass local attractions, etc. from the phone's touchscreen. 
Grandstream IP Phones are known for  having low deployment costs and versatility. They are of an excellent value and have many high quality features. Popular Grandstream phones include the Grandstream GXP2000 and the Grandstream GXP2100. 
With 6-lines and up to 6 SIP accounts, 5-way conferencing and video streaming from mobile phones, the GXP2200 includes a 480×272 color capacitive LCD touchscreen to control the display with very light touches of a finger, HD audio, Gigabit network ports, 11 native languages, integrated web browser, USB, SD, and built-in Bluetooth for use with Bluetooth headsets and devices for data exchange. Bluetooth also makes it easy to sync phonebooks from a mobile phone to the GXP2200.
It is with pleasure that we recognize Grandstream with a Product of the Year Award. The editors of INTERNET TELEPHONY have verified that the GXP2200 displays quality and innovation while providing solutions to real business communications challenges," stated Rich Tehrani, CEO, TMC. "I would like to congratulate the team at Grandstream for their commitment to advancing IP communication technologies."
2012 Product of the Year winners are published in the January/February 2013 issue of INTERNET TELEPHONY magazine. INTERNET TELEPHONY has been the authority in IP communication since 1998™.
The GXP2200 will be showcased at IT Expo East, January 30 – February 1 in Miami, Florida. Grandstream will host a "GXP2200 Application Workshop" at IT Expo on January 30 and 31 to show attendees how to develop their own custom-made applications to run on the GXP2200. For more on the workshop, view the video. The GXP2200 will also be on display, along with Grandstream's full range of IP voice and video products, at Grandstream's booth (809).
Share this story with your friends or work colleagues.  If you want to stay up to date with our latest products, industry news and offers you can sign up to our monthly newsletters, keep up to date with us on Facebook or follow us on twitter @VoIPon.