Grandstream Networks, the leading manufacturer of IP voice/video telephony and video surveillance solutions, today announced the introduction of its GXP1100/GXP1105 series of HD IP phones. Fully compatible with a broad range of third-party SIP devices and leading SIP/NGN/IMS platforms as well as IPPBX systems, the new GXP1100 and GXP1105 provide small-to-medium-sized businesses (SMBs) and the hospitality (hotel/motel) industry with the latest in affordable entry-level HD SIP phones with crystal clear HD audio, rich telephony features and solid performance in a sleek industrial design.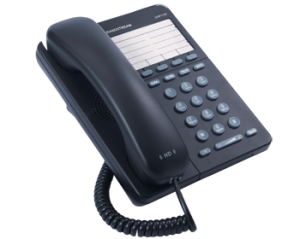 The new GXP1100/GXP1105 target those customers who want an entry-level, flexible, and high performance phone with HD audio and robust telephony functionalities but don't need to invest in more sophisticated multi-line phone models with LCD displays. The GXP1100/1105 supports a number of popular telephony features of Grandstream's more advanced GXP21xx/14xx series HD phones,  such as security protection using TLS/SRTP/HTTPS, 802.1x, automated provisioning using AES encrypted XML configuration file and TR069, comprehensive voice codecs including the wideband G.722, etc.
More specifically, the two new models of GXP phones support these features:
GXP1100: entry level business HD IP telephone supporting single SIP account, up to 2 calls, 4 programmable keys, HD Handset with wideband audio, single 10/100Mbps network port, wall-mountable design with a desktop stand, 7 dedicated function keys for Hold, Flash/Call-Waiting, Transfer, Message, Mute, Volume, Dial/Redial.  The phone is energy green efficient with an average power consumption of less than 1W. Its Web configuration interface also supports multi-languages including English, German, French, Spanish, Italian, Russian, Chinese, Korean, and Japanese.
GXP1105: Includes all of the same features and functionalities of the GXP1100 but it additionally offers integrated Power-over-Ethernet (PoE).
"In 2011 Grandstream placed focus on, and successfully gained significant momentum in, the sub-$99 IP phone category by introducing a wide assortment of HD IP phones that meet the varying size and application needs of SMBs and enterprise customers," said David Li, CEO of Grandstream Networks. "The release of the new GXP 1100/1105 phones demonstrates our continued commitment to serving this fastest growing market segment with a variety of innovative, high quality and affordable product offering."
For more information on the GXP1100/1105 please Contact Us.