Grandstream, an award-winning supplier of unified communications, recently released the GRP2600 Essential IP Phone Series. The newest addition brings affordable and powerful devices to the desktop of any business or home office. Built for the basic needs of desktop workers and designed for easy deployment by enterprises, service providers, installers, and more, the essential IP series is an ideal choice for easy-to-use VoIP endpoints.
Advanced Features and Capabilities
Every device within the line has an optional PoE model, and the GRP2602 has a WiFi option. They also support faster boot times, 4 context-sensitive soft keys, dual firmware images, OPUS codec, GDMS integration, noise-shield technology, an electronic hook switch port, and enterprise level security.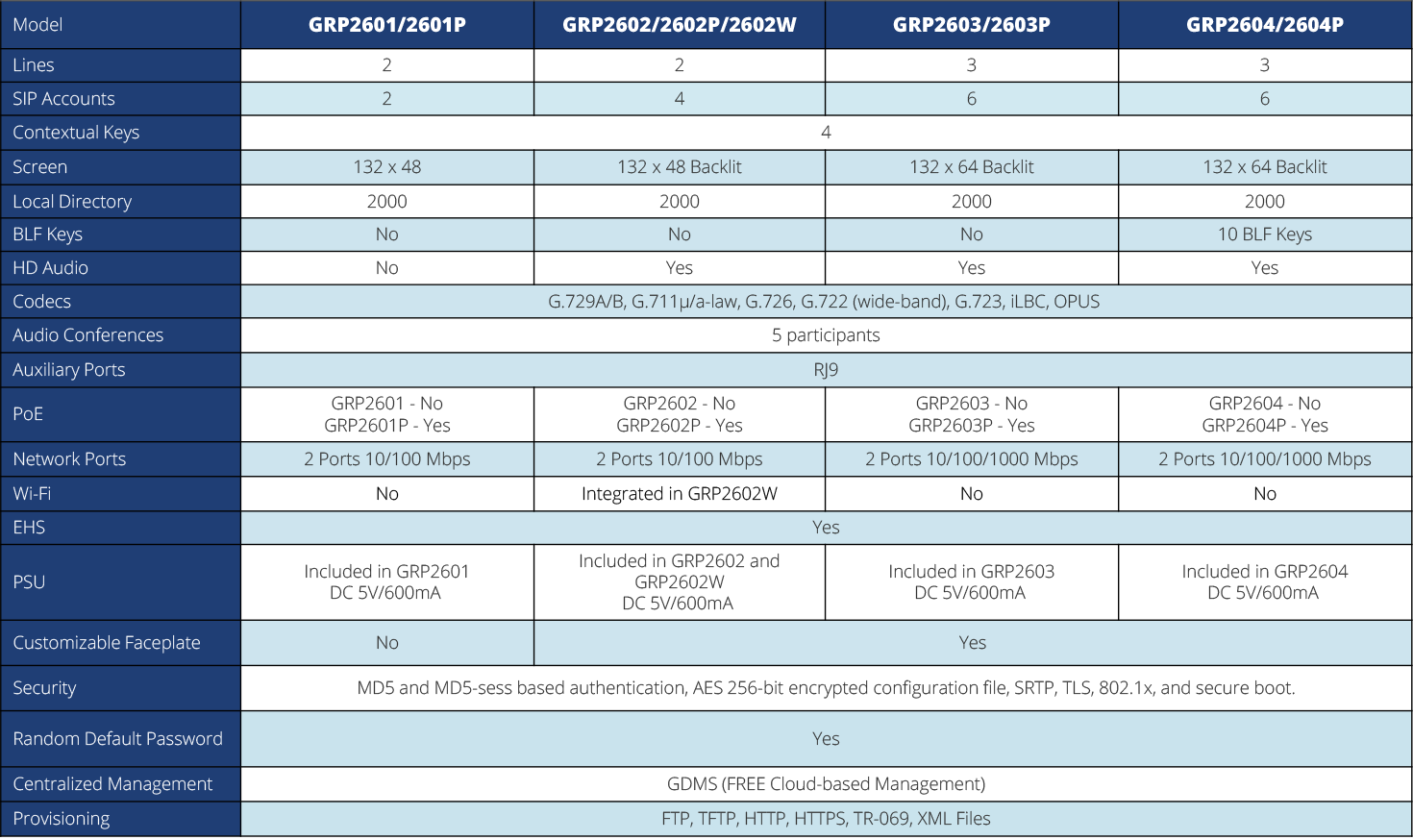 GRP2601/P
The lowest end model of the series, the GRP2601 is a 2 SIP account, 2 line device designed to be a streamlined desktop endpoint for low to medium call volumes. This device is also a great choice for public areas such as breakrooms, lunchrooms, and conference rooms, where occasional telephony use is needed.
GRP2602/P/W
For higher to medium volume requirements, the GRP2602 offers 4 SIP accounts and 2 lines, along with a backlit screen, dedicated hold key, and 5-way conferencing. This desktop IP phone elevates a user's ability to manage multiple incoming calls and stay productive throughout the workday. The GRP2602W is a WiFi capable model.
GRP2603/P
Taking a larger step towards a medium-to-high call volume desktop, the GRP2603 pushes SIP accounts and lines to six and three. Additionally, it adds Gigabit networking ports for carrying a lightning-fast connection to a user's desktop computer. This device is an ideal choice for users who spend most of their time at their desk, and require a device that can support frequent calls.
GRP2604/P
The GRP2604 adds 10 BLF/Speed-Dial keys that gives a user better communication inside and outside of a company. Users can create predefined destinations to quickly call, transfer, and monitor coworker extensions who they frequently collaborate with, along with having frequently-called numbers reachable with a press of the button.
The GRP2600 Series of Essential IP Phones have a variety of deployment scenarios due to its low cost and feature-rich design. Below are three highlighted solution deployments.

Offices
Small and medium offices can utilise the new essential IP phone line as an affordable and effective communication option for users who don't require high-end desktop communications, or as an affordable option to equip an entire office staff with effective endpoints based on their needs. The series' noise shield technology also helps reduce background audio interference that may be present within a busy office deployment. Lastly, all devices support advanced telephony features like 5-way conferencing, hold, transfer, forward, call park, and more, which helps drive an employee's productivity.
Education
Most deployments within a school or university network will require a wide range of phones with a superior price-for-feature ration so a solution can be both customisable and affordable. This is especially true for bid situations. The GRP2600 series of Essential IP Phones are designed to be a "bid winner" in this way. The line offers a wide range of devices that offer a perfect use-case for classrooms, administrative offices, and public areas. All devices within the line support a swappable faceplate for an extra touch of customisation. Lastly, integration with Grandstream Device Management System allows larger, district-wide deployments to be managed entirely from the cloud.
Government
Townships and municipalities frequently need customised networks that are price friendly, and GRP essential IP phones offer just that. GRP2600 devices provide a solution that can be customised to fit the unique structure of the town or city. Cloud management, unified firmware across all devices, and Grandstream UCM IP PBX Zero-Config capabilities makes scaling and adjusting deployments streamlined and easy. Enterprise level security and encryption creates a safe network that helps keep sensitive information secure. Lastly, 5-way conferencing across most model enables quick and easy collaboration between various departments.
Want to expand your communications solution further? Check out the full range of Grandstream products below! If you have any specific requirements, please contact our technical sales team on +44 330 088 0195.
Check out the original story from Grandstream HERE