Konftel release Konftel 55 series – at the centre of communication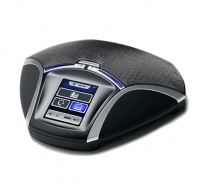 The development of Konftel's new 55 series, the Konftel 55 Conference unit and the  Konftel 55W Conference Phone was driven by two main goals: ease of use and amazing audio quality. When a mobile phone, laptop, tablet or desktop phone connects to the Konftel 55 an icon automatically illuminates in the smart LCD screen. A VoIP call via, for example, Skype, MS Lync or other web meeting services can also be bridged with a regular phone call. And all with brilliant sound quality thanks to Konftel's patented audio technology OmniSound® HD.
Interactive Design
The versatility and functionality of the 55 Series Konftel IP Conferencing Telephone combined with advanced sound technology is the result of a collaboration between Konftel's development engineers and specialists in interactive design with people in focus. Flexibility and simplicity are key reasons why Konftel 55 is a hub for all communications regardless of the user's location, whether it be at work, in a hotel room or at the home office.
"The biggest difference between traditional VoIP conference phones and the Konftel 55 series is the ability to connect the Konftel 55 to a vast range of communication devices available today. As we become more mobile and flexible greater demands are being placed on remote meetings and professional tools that work together regardless of the technology platform", says Tommy Edlund, Product Manager at Konftel. There is a big buzz around terms like Collaboration and UC. The fact is that Konftel 55 is the same as Collaboration; it is unified and works with all devices", continues Tommy Edlund.
Portable and wireless
Konftel 55 has all the makings of a personal communication tool. It is flexible and adapts to many different situations – for both voice calls and remote meetings. When a headset is connected to the 3.5 mm jack users can easily switch between personal calls or meetings via the speakers.
The Konftel 55 series features a rechargeable battery that is powered via USB or with the accompanying AC adapter. For those who like working wirelessly the Konftel 55W is a great choice with its inbuilt Bluetooth® function. Interviews and conversations can be recorded onto an SD memory card and the device can be used as a dictaphone. The Konftel 55W is expandable with additional microphones that increase the sound pick-up area, making it ideal for larger conference rooms. The Konftel 55 series has been designed to be the link between today's flexible communication tools and your next meeting.