Polycom,  the global leader in open standards-based unified communications and collaboration (UC&C), today unveiled a next-generation business media VoIP Phone that delivers the familiar tap-and-swipe usability of smart phones and tablets to the desktop, while offering advanced UC&C features and a new optional video camera that accelerates the speed of business and enables face-to-face collaboration via video conferencing.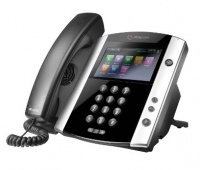 With the new Polycom VVX 600, workers have a flexible and intuitive phone that integrates seamlessly with popular UC&C productivity applications and Bluetooth headsets for hands-free privacy.  The Polycom VVX 600 joins the Polycom VVX 500 Business Media Phone and Polycom VVX 1500 Business Media Phone in the VVX family.
The simple and intuitive experiences people have with their mobile devices are shaping their expectations for the workplace," said Jim Kruger, Senior Vice President, Solutions Marketing, Polycom. "The Polycom VVX 600 represents a new generation of solutions that merge consumer-like simplicity with enterprise-class reliability, performance and UC&C integration. Now organisations from SMBs to the largest enterprises can put Polycom's renowned HD voice and video on desktops at a very affordable price."
The Polycom VVX solution includes several new enhancements:
Larger multi-touch screen. Featuring a touchscreen interface on a desktop phone, the Polycom VVX 600 incorporates a 4.3-inch LCD screen that is 23 per cent larger than other business media phones for ease of use and greater functionality.
Easier and faster access to contacts. The Polycom VVX 600 supports up to 16 line appearances for speed dialing, as well as access to corporate directories, instant messaging and presence status.
Built-in Bluetooth integration. Now Polycom VVX 600 users can conduct calls with the same Bluetooth headset that they use with their smart phon
The VVX 600 will feature the recently announced Polycom UX™ (new user experience), which delivers the industry's best video collaboration experience with more than 20 new user innovations and features, including a completely redesigned user interface, the industry's most lifelike HD image quality, and innovative only-from-Polycom video, content sharing and audio features, all while minimising IT management and support requirements. For IT managers, Polycom's zero-touch provisioning and Web-based configuration tool make the VVX 600 simple to deploy and easy to administer, upgrade and maintain. Because organisations can deploy VVX 600 solutions on their existing networks without having to upgrade their call control platforms, the new phone reduces cost of ownership.
The Polycom VVX 600 solution improves personal productivity by providing access to the key workplace applications that users rely on daily directly from the phone. Through a built-in Web browser, users can view and manage their calendars, receive meeting reminders and alerts, and search the corporate directory. The Polycom VVX 600 also features open APIs to enable third-party applications developers to integrate the VVX 600 with business and UCC applications, and personalised information tools. Additionally, VVX 600 users can access content using the included video playback feature.
In addition to daily use on the desktops of executives, managers and administrative staff, the Polycom VVX 600 phone can transform a variety of environments:
Healthcare providers can equip phones with the VVX Camera to offer remote therapy or follow-up consultations for patients with chronic conditions.
Banks can use camera-equipped phones to engage customers with remote loan specialists, brokers and title processors.
Retailers can offer in-store customers a chance to speak face-to-face with a remote technical support or customer care representative.
Distributed organisations can use the phones to conduct regular meetings with branch managers, warehouse managers and other field personnel.
For almost any company, Polycom VVX 600 phones can serve as virtual receptionists in an office lobby.
For many organisations, such as law firms with offices, clients and partners around the world, using enterprise-quality video and voice technology is the best way to remove distance barriers for real-time collaboration.