The software, especially designed for Yealink phones, will integrate with the contact center resource management system, based on Genesys Customer Interaction Manager.
Genesys announced that as a part of the expansion and modernization of the Front Line contact center technological platform, the company will receive a solution, integrating advanced Genesys technologies for customer service and reliable Yealink devices with IP-telephony support.
The project will be carried out by CCK-consulting, Genesys partner. The uniqueness of this joint integrated solution is in use of the software specially developed by Genesys for Yealink devices, providing deep integration of the Yealink VoIP Phones with the Genesys software for a contact center resource management.
It enables to collect full information about the contact center representative's work to analyse and better plan the resource allocation in a single report Genesys Customer Interaction Management system. Integration of Yealink devices with Genesys Agent Desktop enables call control from a representative's interface, while support for Genesys Geographical Redundancy Architecture reservation significantly improves the success ratio.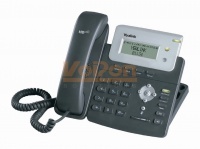 Installation of high cost-effective Yealink SIP-T20P IP phones, supporting the transmission of audio data in HD, as well as ability to automatically configure the devices with integration of additional functionality, will enable the Front Line to reduce the infrastructure maintenance and management costs.
"This comprehensive solution based on Genesys and Yealink has already been used in our contact center: company's software has proven it to be an advantage, allowing us to efficiently solve the most complex customer call processing tasks. We are confident that thanks to integration of Genesys with Yealink devices, the contact center resource control will significantly improve" – says Tatiana Irge, Director General of the Front Line. "The need for constant program complex cost of ownership reduction and, at the same time, rising customer service level expectations from an outsourced call center, set the bar high. We are pleased that the joint solution from Genesys and Yealink, meets these requirements" – said Oleg Saushkin, Genesys' official representative in Russia and CIS.
Yealink is a leading provider of VoIP Phones and IP communication solution. Selected by the well-known partners like T-Mobile, Telefónica , Portugal Telecom, and clients from over 140 countries,