Grandstream have announced that their IP Video Surveillance Cameras, Video Decoders and Video Encoders have been tested and certified interoperable with Synology's Network Attached Storage (NAS) devices.
Grandstream's GXV36xx IP cameras and GXV35xx IP Video Encoderds/Decoders, featuring SIP/VoIP integration, high quality HD imaging and cost-effectiveness, can now be coupled with Synoplogy's DiskStation NAS devices, with powerful tools for analytics, automation, and full video streaming,makes this solution easy and cost-effective for SMBs worldwide to configure and maintain. Grandstream's GXV series offers best-in-class technology for a stunning IP Surveillance System with products such as the GXV3601 IP Camera and the GXV3615 Cube IP Camera.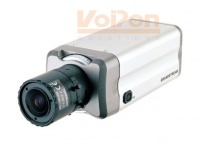 We are pleased to have completed the interoperability certification with Synology. The combination of Grandstream's award-winning IP video surveillance endpoint products with Synology's powerful NAS platform offers SMBs and home customers a powerful and end-to-end solution for video monitoring and recording that are recognized for quality and reliability," said David Li, CEO of Grandstream.
Grandstream meets HD or low light application needs with an array of surveillance solutions including box IP cameras, cube & mini dome IP cameras, outdoor IP cameras, etc. The award-winning GXV36xx family of IP video surveillance solutions delivers crisp, clear picture quality, rich telephony features, significant price-performance competitiveness, full compliance with industry standards and broad interoperability with industry video management systems. All Grandstream IP cameras support ONVIF standards and HTTP API for easy integration with VMS. Grandstream cameras uniquely offer bi-directional SIP/VoIP audio and video streaming capabilities to mobile phones and videophones, from anywhere in the world.
Synology's range of DiskStation devices for NAS offer a wide range of video recording and management features, including a suite of file sharing, surveillance server, data backup, access control, data protection, and mobile 
access options for entry-level users to business class customers. Recognized throughout the world for high performance and reliability, Synology DiskStations' includes Disk Station Manager Software free with every DiskStation model, which features advanced functionality, feature-sets, and an easy to use web-based interface.
Share this story with your friends or work colleagues.  If you want to stay up to date with our latest products, industry news and offers you can sign up to our monthly newsletters, keep up to date with us on Facebook or follow us on twitter @VoIPon.