The Yealink IP DECT Phone W52P has been designed specifically to meet demanding criteria. Yealink has invested extensively in refining an advanced Power over Ethernet system that supports all other high-level W52P specifications.
The W52P is a new model from Yealink, the first in the Yealink DECT IP Phone range. 
It is essential that modern IP phone systems can be installed quickly and easily to maximise network coverage with minimum inconvenience. Energy-efficiency is also extremely important for businesses and organisations that are committed to high environmental principles and make every effort to reduce their "carbon-footprint" by limiting greenhouse gas emissions.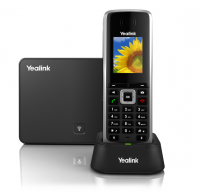 PoE is a standardised system for passing electrical power and the flow of clear telephony data along a single, flexible, easy-to-extend cabling system.
Although power and information actually pass through different sets of wires, from the user perspective one slim cable link is all that is needed to route phones throughout a building complex, office block or entire production site.
There are a number of distinct benefits. Yealink PoE systems provide a consistent quality telephony experience that reaches out from one single central hub to remote IP phones that can be up to 100 metres away. Crucially, power does not decrease over these longer distances, which makes PoE a more appropriate technology than USB (Universal Serial Bus) that only allows short cable lengths carrying low power.
From a convenience standpoint, there is no additional requirement with PoE to lay on a separate power source. This makes network configurations extremely easy.
Another PoE advantage is the intrinsic energy-efficiency which lowers overall power requirements. Although many countries are now developing low or no-carbon renewable energy resources, a low-power demand means that the DECT Phone W52P can play its part in reducing the use of fossil-fuels that emit harmful carbon dioxide.
Share this story with your friends or work colleagues. If you want to stay up to date with our latest products, industry news and offers you can sign up to our monthly newsletters, keep up to date with us on Facebook or follow us on twitter @VoIPon.