Sangoma has announced the availability of its T116 16-Span Tapping Board. The highest density board on the market, the T116 provides passive high-impedance tapping of digital telephony spans. The T116 board, which is available immediately from Sangoma partners around the world, provides telephony solution developers with a highly reliable and dense platform for building call monitoring, recording, logging, fraud detection and security applications.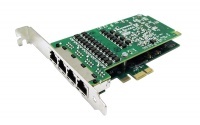 With its support for up to eight digital spans on a single board, the T116 has double the capacity of any other passive tapping solution on the market. It is built on Sangoma's highly regarded PCI Express interface board technology to ensure broad compatibility with commercial servers," said Simon Horton, Sangoma director of product management. "Developers of call recording and logging solutions have been limited in scaling their products due to the lack of high-quality and affordable boards that are compatible with open source and proprietary operating systems. The T116 breaks down these barriers and provides a scalable and reliable product that enables innovation."
The T116 board is part of the Sangoma Asterisk Card range and employs high-impedance circuitry to ensure that there is no disruption or degradation of the communications signals on the digital spans. This passive monitoring approach eliminates the need to insert a device that terminates and regenerates every call. Designed to monitor up to 240 individual calls, the T116 board is developed for global markets that require compliance with T1, E1 or J1 standards. In addition, Application Programing Interfaces (APIs) and source-code software development kits are available for open source projects such as FreeSWITCH and Asterisk, and for proprietary PBX, switch, IVR, and VoIP gateway applications.
The Sangoma Asterisk Card range includes a number of different product lines such as Sangoma Analog Cards, Sangoma PRI Cards and Sangoma Transcoding Cards. The Sangoma Tapping Board line is the latest addition to this range.  
We have benchmarked full line-rate performance in a single 2u server chassis equipped with six T116 boards to provide simultaneous real-time monitoring of 48 digital spans," continued Horton. "This level of density has never before been available in competitive tapping products. Solution providers can be assured that Sangoma's market-proven reputation for building quality, reliability, and affordability into every product extends to the T116. A number of development projects are already underway using this board, and we anticipate that there will be strong interest from developers looking to create innovative high-density solutions for a variety of telecommunication markets."
Share this story with your friends or work colleagues. If you want to stay up to date with our latest products, industry news and offers you can sign up to our monthly newsletters, keep up to date with us on Facebook or follow us on twitter @VoIPon.