A new SIP infrastructure was required at the insurance/financial services company "AI" to support over 60,000 customers, VoIPon Solutions assisted in providing and supporting set up of the Digium Switchvox appliance.
About
"AI" is an insurance/financial services company with over 60,000 customers. The company has offices in two European countries and communications to the offices and our customers is done via VoIP. The company currently employs around 35 employees.
The Challenge
"AI"  had installed Cisco Call Manager 10 years ago in both offices and was using Cisco components for all of its communications. The problem faced was that the upgrade to the latest version CCM was too expensive (licensing and hardware), and time consuming.
Solution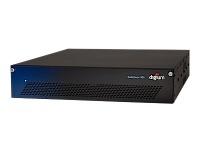 After research and evaluation of various products, AI decided to change the whole infrastructure to SIP calling and replace the existing CISCO infrastructure with a Digium Switchvox IP PBX Appliance.  "AI" choose the Digium Switchvox SMB AA355 Appliance, which has now been replaced by the Digium Switchvox 360 Appliance, UK.  This appliance was used to replace Cisco Call Manager, Cisco unity(voice messages) and Cisco IPCC (call center) as an 'all-in- one" solution.  
Additionally the Cisco phones were to be replaced by the Digium D40 and Digium D70 IP  phones to get the full functionality of the appliance. "AI" chose for expandability purposes and future needs, the 355 Appliance, including a cold spare appliance for redundancy. The whole solution in monetary terms was 50-60% less than moving to the latest Cisco products.
Result 
"AI" were able to setup the whole infrastructure with minimal help from external VoIP experts, VoIPon Solutions. The setup was completed by the IT department with great ease and the new system meets the requirements and added some features that were not available to before with Cisco. "AI" are now self sufficient in terms of telephony, and support by VoIPon and  Digium is readily available if needed. 
Share this story with your friends or work colleagues. If you want to stay up to date with our latest products, industry news and offers you can sign up to our monthly newsletters, keep up to date with us on Facebook or follow us on twitter @VoIPon.