What is the Yealink T23G VoIP Phone?
The Yealink T23G is an entry level desk IP phone that can enhance your productivity with its cost effective functionality. The T23G's body is scratch resistant and the phone features Yealink's HD technology, which enables clear and rich conversations.
What are the key features of the Yealink T23G?
The T23G has features that include:
Yealink HD Voice
Dual-port Gigabit Ethernet
PoE support
132 x 64-pixel graphical LCD
Up to 3 SIP accounts 
The T23G has dual colour LEDs and headset support. It has simple and secure provisioning options and is wall mountable. 
Who should use the Yealink T23G?
The T23G is ideal for home offices or small to medium sized businesses. The T23G is compatible with 3CX, Asterisk and Broadsoft, ensuring excellent compatibility with leading soft switch suppliers. The headset support, provisioning options and HD technology make the SIP-T23G is perfect for light to medium phone users.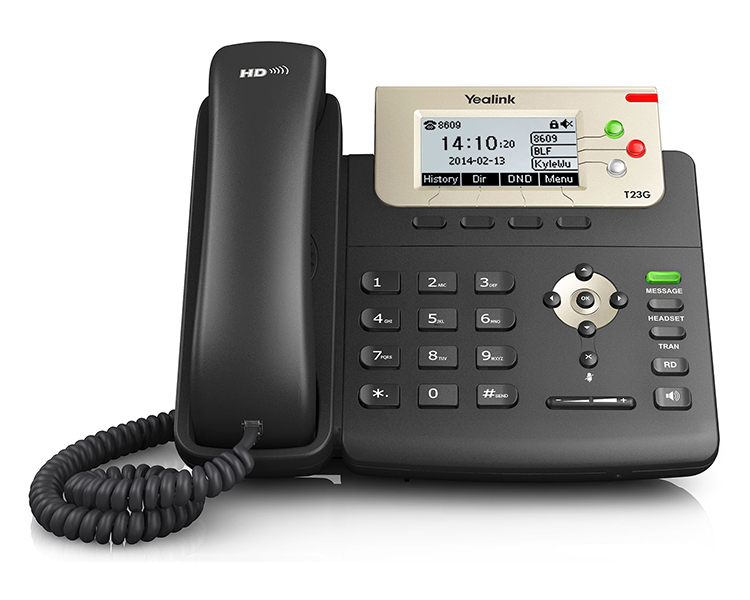 What other models are available?
There are many models in the Yealink VoIP Phone range, covering all user requirements. 
The Yealink T19P is an entry level phone with 1 SIP line. It has a 132 x 64 pixel graphical LCD screen and is perfect for light phone users. 
The Yealink T38G is designed for managers and has 6 SIP lines and a 4 x 3 inch TFT colour screen. The T38G has dual port Gigabit Ethernet and 3 way conference calls. 
The Yealink T48G is a high end VoIP phone designed for executives. It has a 7 inch colour touchscreen, dual port Gigabit Ethernet and 6 VoIP accounts. 
The Yealink VP530 is a video phone with 4 SIP lines. It has a 7 inch digital touch screen and a 2 megapixel camera. The VP530 offers business grade video calling. 
How much does the T23G cost?
As an entry level phone, the T23G is highly cost effective and is priced below £100. For more information, see the product page. 
Summary
In conclusion, the T23G is a cost effective entry level solution. With 3 SIP lines and a 123 x 64 LCD screen, it is perfect for increasing productivity in the workplace. 
To compare the T23G with other Yealink VoIP Phone models, please see our comparison chart. 

Share this story with your friends or work colleagues. If you want to stay up to date with our latest products, industry news and offers you can sign up to our monthly newsletters, keep up to date with us on Facebook or follow us on twitter @VoIPon.