Grandstream Networks, an award-winning manufacturer of SIP Unified Communications solutions, has released the latest firmware update for their new GXV3350 Smart IP Video Phone. Firmware version 1.0.3.13 is set to support Google Play and other popular apps such as Teams, Skype, Zoom, Youtube, etc.
To update your GXV3350 Smart IP Video Phone, download the latest firmware 1.0.3.13 here.
CHANGES SINCE FIRMWARE VERSION 1.0.1.8
ENHANCEMENT
When the device is in a call, press the keypad would dial DTMF instead of making a new call.
Device would display tips for Google Play downloading in GS Market.
Added AutoAdjustScreen app to make third-party app display more friendly. [AUTO ADJUST
SCREEN]
BUG FIX
Fixed GMS cannot run issue.
Fixed Google Play crash issue.
Fixed some issues when GBX20 is connected to the device, such as key mode cannot be edited,
crash during call transfer or when "Enable Transfer via Non-Transferable Key" is enabled.
Fixed some LCD display issues.
NEW FEATURES OVERVIEW
This section lists major new features and describes how to use it from the user's point of view
AUTO ADJUST SCREEN
This app is running in background and automatically triggered when the user opens third-party app, such
as YouTube, Skype, Zoom, Teams, etc, so that app layout would be correct. When the user goes back to
the LCD desktop, the app adjusts the screen back to normal.
The notification would show as below: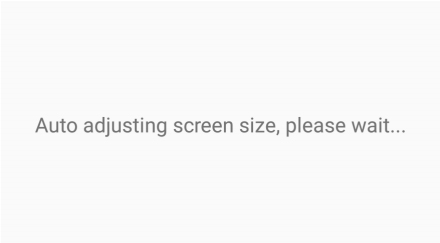 The GXV3350 IP Video Phone for Android combines a 16-line IP video phone with a multi-platform video
collaboration solution and the functionality of an Android tablet to offer an all-in-one communications solution.
This IP video phone delivers a powerful experience through advanced features. By combining a state-of-the-art IP video phone, an advanced video collaboration solution, and the functionality of an Android tablet, the GXV3350 offers businesses throughout the world a powerful desktop communication and productivity solution.
Android Version 7.0
Built-in 1 mega-pixel CMOS tiltable camera for video calling with privacy wheel
5.0" (1280×720) capacitive 5-point touch screen HD TFT LCD
6-way audio conferencing & 3-way 720p 30fps HD video conferencing capability
Dual-switched auto-sensing 10/100/1000Mbps network ports
Integrated dualband WiFi (2.4GHz & 5GHz)
Built-in PoE/PoE+ for power and network connections
Built-in Bluetooth for syncing with mobile devices and connecting Bluetooth headsets
16 SIP lines with up to 16 SIP accounts
Dual-mic HD speakerphone with noise reduction, advanced echo cancellation & excellent doubletalk performance
4-core 1.3GHz ARM Cortex A53 processor with 2GB RAM and 8GB eMMC Flash
HDMIout, USB, headset jack, EHS
Compatible with GBX20 extension module.
Want to expand your communications solution further? Check out the full range of Grandstream products below! If you have any specific requirements, please contact our technical sales team on +44 330 088 0195.