Sangoma B500 ISDN BRI Interface Boards Deliver Flexible Configuration Options to Facilitate SMB Connectivity to Carrier Networks
Sangoma Technologies Corporation (TSX VENTURE:STC), a leading provider of hardware and software components that enable or enhance IP Communications Systems for both voice and data, announced that commercial shipments of the Sangoma B500 Basic Rate Interface (BRI) Telephony Interface Board commenced today. Designed for simple integration with open source projects, including Asterisk and FreeSWITCH, as well as other open source and proprietary IP PBX, Switch, IVR and VoIP Gateway applications, the B500 provides solution developers with an efficient and cost-effective connectivity solution.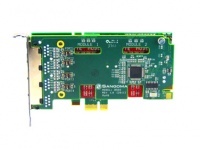 There are a tremendous number of small businesses around the world that use ISDN Basic Rate Interface (BRI) for cost effective PSTN connectivity. We're pleased to offer this solution that can enable new and innovative products to be produced for this significant market," said Frederic Dickey, Sangoma director of product management. "Sangoma's B500 BRI Telephony Interface board allows developers to create compelling telecom products and services aimed at specific niches where BRI is the PSTN connection of choice.
The B500 board allows for superior call quality and scalability in an industry standard PCI Express form factor. The board expands to support 2 or 4 Basic Rate ports, each configured independently as either network (NT) or user (TE) configuration. Full support is available for Asterisk and FreeSwitch as well as many other open-source and proprietary PBX, IVR and general VoIP solutions. The B500 also supports both Windows and Linux operating systems, resulting in greater flexibility for developers.
Optional telco-grade echo cancellation algorithms, implemented on-board to minimize any potential impact on the host server CPU, provides superior call quality. In addition, the B500 supports a broad range of media codecs to ensure compatibility with virtually any VoIP application or network.
The new B500 ISDN BRI board allows our customers to produce solutions specifically designed to take into account the advantages that basic rate ISDN offers," said Johannes Haseneder, head of business unit UC for ALLNET GmbH of Munich, Germany. "We're extremely pleased with all of the new product developments and direction shown by Sangoma – it's refreshingly positive to find a manufacturer that listens to feedback from their channel to capitalize on new opportunities.
The Sangoma B500 can be purchased in the following models, Sangoma B500 1 Module – 2 BRI Ports – 4 B-Channel PCIe B501E, Sangoma B500 1 Module – 2 BRI Ports – 4 B-Channel PCIe + Echo Cancellation,  Sangoma B500 2 Modules – 4 BRI Ports – 8 B-Channel PCIe  and Sangoma B500 2 Modules – 4 BRI Ports – 8 B-Channel PCIe + Echo Cancellation.