To celebrate the incredible success of Digium's line of VoIP phones, Digium is pleased to announce the launch of Phone Tag, a new contest that features a chance to win a new Digium D40 IP phone now through September 30,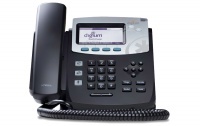 2012. To participate, Asterisk users simply need to share their Asterisk experience by completing a brief form on the Digium Facebook page. For each tagged friend who enters the contest, the person will receive an additional entry into the drawing. The contest is a fun way to share Asterisk experiences in exchange for the chance to win one of Digium's IP phones, the only phones built specifically for the greatest interoperability with Asterisk.
Digium Phone Tag is easy:
Share your Asterisk story using the Phone Tag app on our Facebook page:https://www.facebook.com/DigiumTheAsteriskCompany
Tag your friends. For each tagged friend who enters, you will receive an additional entry into the drawing.
Winners will be chosen each weekday and will be posted on the Phone Tag winners site, from September 4-30, 2012. The more friends a participant tags, the better their chance of winning. The contest is available in the U.S. in accordance with sweepstakes rules. Asterisk developers outside of the U.S. are also invited to share the innovative ways they are using Asterisk by submitting their stories for potential publication on Asterisk.org, or in an Asterisk customer success e-book.
Register for Phone Tag today and discover the awesome power of phones built exclusively for Asterisk-based phone systems.