Software version 5.0 enhances support for MEGACO and SIGTRAN to enable additional SS7 signaling interconnect opportunities for network operators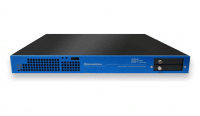 Sangoma, a leading provider of hardware and software components that enable or enhance IP Communications Systems for both voice and data, today announced the release of version 5.0 software for its Sangoma NetBorder SS7 VoIP Gateway, extending the gateway's broad range of signaling, protocols, and management interfaces that facilitate integration of nearly any VoIP network into an SS7-based carrier network.
The version 5.0 release offers a number of improvements, such as expanded support for SIGTRAN and Megaco/H.248 signaling to extend the ability of network operators to interconnect with a broader range of public and private networks. Additionally this new signaling support also allows for easier integration with lawful intercept applications demanded in today's highly regulated world of telecoms.
Expanded support for the H.323 VoIP protocol aids in the integration and support of older VoIP networks. This not only offers the ability to extend the life of these older networks, but also offers additional opportunities to cost effectively expand networks and add new feature set. The nearly ubiquitous use of standards-based network management functions among large service providers is an imperative not only for efficient operation, but often for regulatory compliance. To this end, a number of management support features are introduced with version 5.0 release including SNMP E1/T1MIB support, and RADIUS support for call accounting and authentication capabilities.
Multiregional Transit Telecom (MTT), the largest independent IP communications network operator in Russia, collaborated with Sangoma in field validation of V5.0 with its local interconnect partner Teleincom. With points of presence throughout Europe, Asia, and North America, MTT systems integrate with networks using a very wide range of standard protocols and signaling systems employed by local and regional network operators.
"Our network operates using SS7 gateways for international connections, but on the local side of the connection, we must be ready to connect with many different systems" commented Dmitry Gurkin deputy director of MTT. "In particular, Sangoma's NetBorder gateway provided seamless interoperation with the Huawei soft-switches installed in a number of core networks. The integration process was very smooth, and the reliability of the Sangoma solution provides our customers with the grade of service they expect."
"Sangoma has always supported SIP for VoIP network integration in the NetBorder Gateway line," explained Nenad Corbic, vice president of software engineering at Sangoma. "With the version 5.0 release, support for the additional signaling standards including MEGACO and SIGTRAN will provide greater functionality and flexibility for service providers looking to easily deploy larger and more distributed networks using a single gateway platform."