Are you considering implementation of Skype for Business (Lync)? If so, do you know the complexity and implementation risks involved? Lync is software. You will need hardware to complete the installation, multiple units such as servers, gateways, and a session border controller besides some IP phones. Putting this all together can takes days dealing with licensing, hardware and software installation, and networking the hardware components together. Besides the labor involved, most IT staff contemplating Lync have never done this before thereby introducing risk into the equation.
This EDUcast, recorded with Frederic Dickey VP of Product Management, Marketing, and Services for Sangoma and Gary Audin, takes you through the deployment issues and challenges of Lync. The EDUcast shows you what effort goes into a successful Lync deployment and how the implementation goals can be satified. You can purchase the technology featured in this Educast in the Sangoma Express for Lync Skype for Business Appliances section.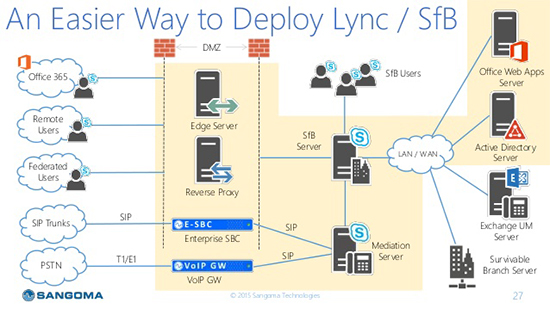 What you will learn in this EDUcast:
Unified Communications Defined
Skype for Business (Lync) as Software
Server Roles in Lync Deployment
Gateway Applications to the PSTN and Legacy Devices
Session Border Controllers and SIP Trunking
Express for Lync (Lync in a Box)
Sangoma Solutions
Resources for Further Study
Share this story with your friends or work colleagues. If you want to stay up to date with our latest products, industry news and offers you can sign up to our monthly newsletters, keep up to date with us on Facebook or follow us on twitter @VoIPon.