Grandstream Networks has announced the relocation of their corporate headquarters, from August 1, 2013. The new facility, located at 126 Brookline Avenue, 3rd Floor, Boston, MA 02215, is nearly three times larger than its previous facility to accommodate plans to increase staffing in sales, marketing and customer support. The new facility will also host a product showcase center to provide our partners and customers with hands-on demonstrations of our SIP-based products for converging voice, video, data and surveillance applications.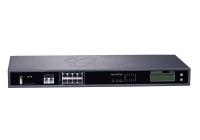 Grandstream produce a range of cost effective VoIP equipment including VoIP phones, Analog Adapters, VoIP Gateways, IP cameras and IP PBX like the recently announced UCM6100 series that includes the UCM6102, UCM6104, UCM6108 and UCM6116. 
It's an exciting time as we move to our new expanded location following the marketplace success we've achieved worldwide during the past decade," said David Li, CEO of Grandstream. "As always, we thank our many partners and customers for their consistent support over the years and for helping Grandstream continue to expand and offer high-quality products that improve people's communications experience with reduced cost. We look forward to a new phase of rapid growth ahead in the next several years."
Since its founding in January 2002, Grandstream Networks has expanded its presence to include 7 office locations worldwide: Dallas, TX, USA; Los Angeles, CA, USA, Casablanca, Morocco, Valencia, Venezuela, Shenzhen, China, and Hangzhou, China, and world headquarters in Boston, MA, USA.  
Over the years, Grandstream and its product solutions have won dozens of awards including the Inc. 500, Deloitte's Technology Fast 500, World Vendor Awards, Internet Telephony Service Providers Association
(ITSPA), 12-time winner of Internet Telephony Magazine's Product of the Year Award and 8-time winner of TMC Labs Innovation Award.
Share this story with your friends or work colleagues. If you want to stay up to date with our latest products, industry news and offers you can sign up to our monthly newsletters, keep up to date with us on Facebook or follow us on twitter @VoIPon.