Digium, the Asterisk Company, and Schmooze Com, have announced that Digium's Switchvox IP PBX has been certified to work with Schmooze Com's Session Initiation Protocol (SIP) trunking solution, SIPStation. SIPStation provides telephony services using high-speed Internet, eliminating the need for traditional phone services. This certification confirms that Digium's Switchvox business phone system and SIPStation work seamlessly together, providing businesses further confidence when selecting their VoIP phone solution.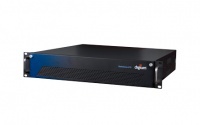 Digium is the developer and maintainer of Asterisk, the world's most widely adopted open source communications platform. Digium's Switchvox is a full-featured unified communications (UC) solution, built on the power of Asterisk and designed for small and mid-sized businesses (SMBs). Switchvox is the industry's best value with all UC features included at one low price. With fixed mobile convergence, Salesforce.com and SugarCRM integration, queues, IVRs, instant messaging and more, Switchvox is a phone system that will transform how businesses operate, making them more efficient and productive.
Businesses are looking for VoIP solutions that are easy to configure, deploy and manage," said Tony Lewis, CEO of Schmooze Com. "Together, Digium's feature-rich Switchvox phone system and SIPStation's Unlimited SIP trunks provide an affordable, high-quality VoIP solution that businesses can rapidly deploy, with unlimited local and long distance calling, and no contracts or fuss."
Businesses that choose Switchvox are now assured of full interoperability when they select SIPStation for their IP network," said Leslie Conway, vice president of global marketing for Digium. "SMBs and solution providers want certified solutions that have been thoroughly tested. Formal certification now provides them with a high level of confidence in choosing Digium's Switchvox and Schmooze Com's SIPStation SIP Trunks as a combined solution for their phone system needs."
Share this story with your friends or work colleagues. If you want to stay up to date with our latest products, industry news and offers you can sign up to our monthly newsletters, keep up to date with us on Facebook or follow us on twitter @VoIPon.