Sangoma, a leading provider of VoIP Gateways and Asterisk Cards, have announced the release of the Sangoma Network Appliance Provisioning (SNAP) Tool that simplifies the deployment and provisioning of TDM-to-IP gateways deployed by SIP trunking providers. Employing standard configuration profiles developed for each supported network provider, SNAP enables the provisioning and configuration of a Sangoma Vega Gateway in less than two minutes.
The SNAP Tool makes it easy for service providers and their channel partners to deliver all of the advantages of SIP trunking to businesses that want to continue using existing TDM-based phone systems," said Jeff Dworkin, director of marketing for Sangoma. "A number of regional and national SIP trunking providers have already taken advantage of the SNAP Tool to help ensure fast and efficient turn-up of new customers on their SIP networks."
An easy-to-use web-based application, the SNAP Tool guides the user through a simple process to select the appropriate service provider, Vega gateway model, and configuration using the service provider's product nomenclature. Depending on the provider's requirements, the user then enters between three and six credentials, and the tool returns a configuration file that can be uploaded to the Vega gateway. And all of this is easily done without specialized training or accessing the command line interface of the gateway.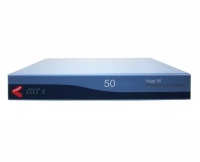 The SNAP Tool currently supports the full Vega Gateway Series, which includes the Vega 50, the Vega 100, the Vega 200, the Vega 400 and the Vega 5000  and will be expanded to support the provisioning of Sangoma's recently announced line of Session Border Controllers. Gateway configuration files can be pre-loaded by the service provider to support self-installation options, or can be generated in the field with a minimum of effort or training.
Each service provider determines the mix of analog and digital interfaces in the gateway, and collaborates with Sangoma to create a configuration file that is fine-tuned to work on the network," continued Dworkin. "We expect that the simple operation and assured network interoperability possible with the SNAP Tool will save time and money for service providers and their channel partners by dramatically reducing installation and troubleshooting efforts."
Sangoma's industry-leading solution portfolio enables the interworking of a wide variety of disparate TDM and IP networks, clouds, protocols, services, devices, and applications. Its portfolio includes award-winning voice and data boards, transcoding and gateway software, standalone gateway appliances for SS7 and TDM-to-SIP, wireless boards, multiplexers, Microsoft Lync gateways, and session border controllers. These products are designed for simple integration with open source and closed source IP PBX applications, contact centers, unified communications systems and service provider networks.
Share this story with your friends or work colleagues.  If you want to stay up to date with our latest products, industry news and offers you can sign up to our monthly newsletters, keep up to date with us on Facebook or follow us on twitter @VoIPon.