Sangoma have named Mark Wagner as Vice President, Carrier and UC Sales for North America and Europe. Wagner will focus on the continued expansion of Sangoma's carrier, SIP trunk service provider and unified communications markets through Sangoma Gateways and Asterisk Cards.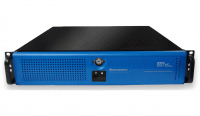 We are delighted to welcome Mark to our dynamic and growing sales organization in this executive leadership position," said Bill Wignall, president and chief executive officer of Sangoma. "Mark's deep experience, energy and repeatedly proven success will help Sangoma accelerate its global strategy of expanding into new market sectors and new geographies. Over the past two years, Sangoma has dramatically broadened its product portfolio to deliver new solutions such as the SS7 Appliance Series, high density gateways, transcoding cards, and most recently a complete line of Session Border Controllers, which squarely address the service provider space. This has produced solid customer wins for Sangoma and having a seasoned leader of Mark's caliber will help Sangoma garner even more traction in the critical carrier and UC markets." 
With over 25 years of experience in the technology sector, Wagner is expected to help grow Sangoma's carrier and UC business in the key markets of North America and EMEA. During his career, Wagner has held a variety of senior executive and sales leadership positions, consistently growing revenue in a very dramatic way. Mark joins Sangoma from his most recent role with Sonus, where he was one of their key sales leaders, and prior to that held executive positions with Magellan Networks Systems, SHS Communications, ALLSwitch Inc., and Simplified Telesys.
I am very excited to join Sangoma's team. I look forward to contributing to their success and that of their customers. Few companies in our industry have made such significant leaps in such a short period of time as Sangoma and I've been watching them closely the past couple of years. I'm confident we can further accelerate by helping carriers and the UC community with our innovative new products, built upon Sangoma's reputation for quality at reasonable prices, offering our customers some of the best value on the market," Wagner said.
Share this story with your friends or work colleagues.  If you want to stay up to date with our latest products, industry news and offers you can sign up to our monthly newsletters, keep up to date with us on Facebook or follow us on twitter @VoIPon.