Grandstream Networks have announced that the GXP Series of IP Phones have been certified interoperable with the suite of call center and customer service solutions from Genesys.
Over a dozen GXP phone models are available ranging from single line to executive 6-line HD phones with integrated PoE. These models include the GXP1400, the GXP1165, the GXP1100 and the GXP2120.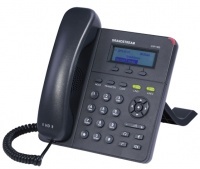 Customers implementing Grandstream's feature-rich desktop IP phones with Genesys application solutions will result on a highly reliable and efficient end-to-end call center and customer service center application that helps their company to improves process and performance. Grandstream's GXP Enterprise IP Phones offer Genesys customers superior HD audio, PoE, XML customization, advanced security protection, simple management and automated provisioning options with TR-069 or HTTPs, productivity applications, and many more advanced telephony features, all at market-leading affordability.  
Grandstream is proud to complete certification with Genesys, one of the largest worldwide solution providers for call center and customer service center," said David Li, CEO of Grandstream. "We look forward to offering Genesys customers with a wide variety of reliable, feature rich IP phones designed for to help any business organization in a customer service role to tap into advanced VoIP calling features for a more streamlined, enjoyable service experience."
Grandstream recently sponsored and attended the Genesys India Partner Forum, held April 29 – May 2 at the Grand Dragon Hotel in Leh, Ladakh, India. This annual event attracts up to 40 Genesys partner from the South Asia region and provided Grandstream with the opportunity to demonstrate their full suite of IP Phones to Genesys partner network and customers.
Share this story with your friends or work colleagues. If you want to stay up to date with our latest products, industry news and offers you can sign up to our monthly newsletters, keep up to date with us on Facebook or follow us on twitter @VoIPon.