Digium has announced the general availability of the Digium Phone App Engine and Phone API Information Center for the Digium IP phones. The Digium IP phones include an applications engine that uses a free and open API. The JavaScript API allows developers to easily create custom phone apps that extend the power of Asterisk, the world's leading open source IP telephony software, and Switchvox, Digium's award-winning Unified Communications solution, to the Digium IP phones. These applications go far beyond simple XML pages and integrate custom business processes directly on the phone display. The App Engine interfaces with the phone's core features and allows any web developer to simply build an array of apps for any purpose, including emergency notifications, weather alerts, call center applications, CRM integrations, business process automations, social media integrations and more.  
The Digium phones include the following models:
• D70 – An executive-level HD IP phone with 6-line keys and 10 rapid dial/busy lamp field (BLF) keys and real-time status information displayed on an additional LCD screen, allowing users to quickly navigate through up to 100 of their most important contacts. Designed for administrators or executives, the D70 offers top-of-the-line features.
• D50 – A mid-level HD IP phone with 4-line keys and 10 rapid dial/busy lamp field (BLF) keys with an easy-to-print paper label strip for the user's most important contacts. This model is ideal for users who spend a lot of time on the phone.
• D40 – An entry-level HD IP phone with 2-line keys. This is Digium's best value phone, designed for any employee in the company.
The Digium phones are the only phones exclusively designed for Asterisk. The combination of the App Engine and the Digium Phone Module for Asterisk (DPMA) enables Digium's phones to be customized like no other phone on the market. DPMA is a free add-on module that allows Digium phones to access rich information directly from Asterisk for automatic provisioning and advanced applications including Status, Contacts, Visual Voicemail, Call Queues, One-Touch Recording, Call Parking and others.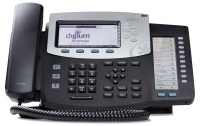 The Digium Phone App Engine and API Information Center are now available to the Asterisk Community of over 80,000 developers for learning how to develop cool custom phone apps for their Asterisk implementations," explained Mark Spencer, founder and chief technology officer for Digium. "Videos, step-by-step guides, sample applications, frequently asked questions, and all App Engine resources can be found at www.digium.com/phones. We can't wait to see what amazing apps the community will create. All developers are invited to join in the conversations on the forum to ask questions, share their experiences, and exchange great ideas on how to create innovative solutions that are only possible with Asterisk communications systems enhanced by Digium phones."
The Digium phones provide the tightest phone integration possible with Asterisk. Now, with the Digium App Engine and open API, we have a unique and compelling IP telephony solution providing limitless possibilities for any installation," notes Tom De Moor, developer at Control Alt Dieliet, an Asterisk integrator specializing in healthcare. "The App Engine is extremely easy to use and allows me to retrieve JSON-formatted data from any external server through a simple web-request. One noteworthy business app I developed includes an integration with my OpenLDAP address book, allowing easy access to my contact list with the Digium phone providing a dial-by-name and a searchable directory. I am amazed at the powerful, yet simple capabilities of the Digium App Engine – this offers a game-changing solution for my business."
Using the Digium IP phones and App Engine, we improved efficiency for our call center customers," says Richard Pettitt, manager of new product development, Startel Corporation, a leading provider of unified communications for contact centers. "We service many Asterisk-based call centers where timely responses and short hold times are essential. Due to the availability of the open API we now have the power to develop tailored solutions for our customers. For instance, we were able to develop an app for call center agents to use their PC's keyboard to automatically answer incoming calls to the phone – completely hands-free. With customer records populating on agents' computer screens, agents can finally respond to calls without interrupting their process to answer the phone. Since this feature is tied into Asterisk and integrates directly onto the Digium phones, we save our clients money with their operation costs."
The Digium App Engine is generally available and included in all Digium IP phones, beginning with firmware version 1.3, and can be used with DPMA version 1.5, and Switchvox version 5.7 or later. The Digium IP phones are localized for the following languages: English (UK, US, AU/NZ), Dutch, French, German, Italian, Portuguese and Spanish (ES, MX).
Share this story with your friends or work colleagues. If you want to stay up to date with our latest products, industry news and offers you can sign up to our monthly newsletters, keep up to date with us on Facebook or follow us on twitter @VoIPon.