Grandstream Networks, a leading manufacturer of IP voice/video telephony and video surveillance solutions, have introduced new high density, high performance, analog VoIP gateways for small-to-medium sized businesses (SMBs) with large voice call volume. The GXW42xx Series of FXS VoIP Gateways supports Gigabit Ethernet for increased speed, backlit graphics LCD display and comes in four model sizes (based on Telephone FXS ports): the GXW4216 (16-port), GXW4224 (24-port), GXW4232 (32-port), and GXW4248 (48-port).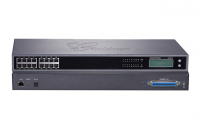 The SIP-based VoIP gateways, with advanced security protection and remote provisioning capability, offers a hybrid IP and analog telephone system that allows businesses to enjoy the benefits of VoIP communications while preserving investment in existing analog phones, fax machines and legacy PBXs. Grandstream is showcasing the GXW42xx Series of VoIP Gateways at NETXUSA's Booth 6005 at Channel Partners Conference and Expo in Las Vegas, NV.
The GXW4212/4224/4232/4248  Key Features include:
16, 24, 32, and 48 telephone FXS port support with both RJ11 and 50-pin Telco connectors, as well as per port phone connection LED
Gigabit Ethernet and a backlit 128×32 graphic LCD display with support for multiple languages
4 SIP server profiles per system and independent SIP account per port
Supported voice/fax codecs include G.711, G.723.1, G.726, G.729A/B, iLBC, T.38 Fax
Advanced carrier grade 128ms-tail-length line echo cancellation
Over-voltage and over-current protection for enhanced reliability (ITU-T K.21 Basic Test Level)
Support VMWI, NEON LED and stutter tone for message waiting indication
Automated provisioning using TR-069 or AES encrypted XML configuration file; TLS/SRTP/HTTPS for advanced security and privacy protection
We are pleased to announce the new GXW42xx FXS gateways that are exciting extensions to our award winning gateway portfolio," said David Li, CEO of Grandstream. "Analog VoIP gateways are great transitional solutions for businesses that wish to preserve and maximize their investment in existing analog systems while taking their time to evaluate and migrate to an all IP-based infrastructure. The new GXW42xx series raises the level of features, performance, reliability and voice clarity for enterprise gateway products while maintaining our market leadership on low per-port price."
Share this story with your friends or work colleagues.  If you want to stay up to date with our latest products, industry news and offers you can sign up to our monthly newsletters, keep up to date with us on Facebook or follow us on twitter @VoIPon.