Epygi Technologies have announced that the Epygi Quadro4L was crowned the Best SMB Solution in 2013 with the Best of Show Award at ITEXPO Miami 2013 by TMC.
According to TMC, winners of the prestigious Best of Show Award program are reserved for products or services that demonstrate raw creativity and technological innovation. Editors from TMC evaluate nominations throughout the week, placing emphasis on a product's feature set, its innovative qualities, its ability to work with existing standards and products, and the degree to which it contributes to the development of future communications products and services.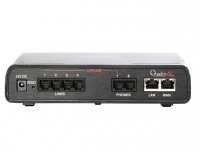 The Quadro4L was designed to assist businesses with their communication needs by providing a phone system with the same reliability and clarity of a large enterprise product. In addition to superb quality, the IP PBX Quadro4L offers a wide range of features including unified messaging, auto attendant, call relay, call queuing, fax to email, life line port and key system emulation.
In response to receiving this prestigious award, Mario Cuello, CEO of Epygi, commented,
This product has proved to be very successful in the marketplace and is highly recommended by our clients. We are honored to have been recognized at ITEXPO Miami 2013 and look forward to another great year focused on new product development."
We're pleased to honor the Best of Show Award winners, and we congratulate them for differentiating themselves in various categories amongst a large and highly competitive field," said Rich Tehrani, TMC CEO and conference chairman.
Share this story with your friends or work colleagues.  If you want to stay up to date with our latest products, industry news and offers you can sign up to our monthly newsletters, keep up to date with us on Facebook or follow us on twitter @VoIPon.