Sangoma and Broadvox have announced the certification of the Sangoma Network Appliance Provisioning (SNAP) Tool for use in deploying and provisioning Sangoma's Vega Series on the extensive Broadvox SIP Trunking service network. As a result of the certification process, Broadvox will make the SNAP Tool available to its reseller and distribution partners that offer its Managed VoIP services to businesses.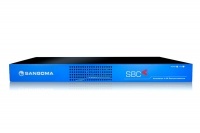 An easy-to-use web-based application, the SNAP Tool can be used by installers to configure a Vega gateway by entering three or four items provided by Broadvox into the configuration screen. The SNAP Tool returns a full configuration file that is uniquely provisioned for the Broadvox network and can be uploaded to the gateway to completely configure it for service. This process can take as little as one minute, and requires no specialized training.
We are seeing a dramatic acceleration in the adoption of SIP trunking by businesses looking to take advantage of the economic and productivity benefits inherent with this service," said Mike Gruszka, director of product development at Broadvox. "Sangoma's SNAP Tool and Vega Series gateways make it very simple for our channel partners to deploy service to customers that have a legacy PBX, but want to use SIP trunks for connectivity. We anticipate that this addition to the Broadvox solution set will be very attractive to those channel partners that must contend with bringing legacy PBX-based customers on board."
The Vega Series Gateways support a broad range of TDM interfaces for IP PBX connectivity, and deliver an extensive set of VoIP codecs for efficient interworking with the SIP trunking service and other SIP endpoints. The SNAP Tool currently supports Sangoma's full Vega Gateway Series, and will be expanded to support provisioning of Sangoma's recently announced line of Session Border Controllers for IP-to-IP connectivity in the coming months.
The availability of the SNAP Tool, combined with the easy-to-use Vega browser-based GUI management tools, makes the Vega Series of VoIP Gateways the easiest to deploy and most cost-effective solution for Broadvox resellers and customers," stated Mark Wagner, vice president of carrier and UC sales for Sangoma. "The simple operation and assured network interoperability available through the SNAP Tool will save time and money for Broadvox channel partners by dramatically reducing installation and troubleshooting efforts."
Share this story with your friends or work colleagues.  If you want to stay up to date with our latest products, industry news and offers you can sign up to our monthly newsletters, keep up to date with us on Facebook or follow us on twitter @VoIPon.