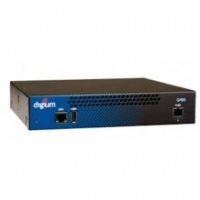 Get the New Year started with a great gateway offer from Digium! Digium gateways make the transition to VoIP even easier.
Customers and partners have said:
These are the easiest gateways to install and configure. This saves me time on every install.
The Digium VoIP Gateways are already a favourite because they have the most intuitive interface, saving you and your customer time and money.
To help you test drive Digium VoIP gateways, we're offering you a special opportunity. Beginning Jan. 1, 2013, you can purchase up to FIVE gateways at up to 50% off US MSRP. Act fast! This offer is only available Jan. 1-31, 2013, while supplies last. The Digium Gateways include the Digium G100 T1/E1/PRI Gateway and the Digium G200 Dual T1/E1/PRI Gateway. The Digium G100 and Digium G200 are the first in a family of cost- effective VoIP gateways that simplify the process of deploying converged media networks. Built on a powerful combination of the Asterisk open source communications engine.
Do you have customers who need to connect to a legacy PBX? No problem. Do you have businesses taking their first step towards SIP? Do you need to share telecom services across multiple PBXs? Make the transition even easier and improve your margins with this special offer. Your time is valuable – and so is your customer's. It's easier than ever to help them connect, whether it is TDM-to-SIP, SIP-to-TDM or SIP-to-SIP (transcoding).
Seeing is believing – take a test drive today!
Take a test drive, and you'll see the difference. Point, click and configure. You'll see why you need to have these ready for installs in Q1. Try, buy, save and sell!
Save time and money with every install
No more wasted time trying to navigate an interface that makes it hard to configure SIP endpoints. No more searching for configurations details in the manual or online help. Digium gateways let you point, click and configure.
Act now – This offer is only valid for a limited time only, while supplies last. Call your preferred distributor today and ask for the Take 5: Try, Buy, Save & Sell offer from Digium.
 Share this story with your friends or work colleagues.  If you want to stay up to date with our latest products, industry news and offers you can sign up to our monthly newsletters, keep up to date with us on Facebook or follow us on twitter @VoIPon.