Ingate Systems, a leading provider of Enterprise Session Border Controllers (E-SBCs) that enable SIP communications such as SIP trunking and Unified Communications beyond the protected enterprise network, have announced that the Ingate SIParator E-SBC has been tested and qualified in Microsoft Corp's Unified Communications Open Interoperability Program for Lync Server 2010, including all optional tests. By achieving this qualification, service providers, enterprise customers and resellers can be confident that Ingate SIParator E-SBCs are fully interoperable with Microsoft's Unified Communications solutions featuring Lync with all feature and security extensions.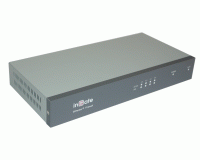 The Ingate SIParator is designed to connect to an existing network firewall to seamlessly enable SIP Communications (Session Initiation Protocol). While traditional firewalls block SIP traffic, including mission critical applications like VoIP, the SIParator resolves this problem, working in tandem with your current security solutions.
Ingate's E-SBCs ensure the secure and reliable use of Microsoft Lync applications by securing the connection between the SIP trunking service and the Microsoft environment. The SIParator E-SBC also resolves interoperability issues between other on-premises equipment and the Microsoft Lync server, paving the way for a fast, simplified installation. The same Ingate product can also integrate PBXs and other Unified Communications solutions into the Microsoft environment.
While other certified SBCs may only comply with the basic requirements, the Ingate E-SBC qualificationalso includes all optional extensions such as TLS, SRTP, DNS load balancing, full failover and full consultative transfer ensuring that users get the most from their Lync environment. The Ingate E-SBCs have also been used by SIP trunk providers to offer Microsoft Lync-qualified SIP trunks, with or without additional security such as TLS and SRTP.
The Ingate E-SBC is a powerful tool that offers enterprises a controlled and secure migration to VoIP (Voice over IP) and other live communications based on Session Initiation Protocol (SIP). The Ingate E-SBC is a unique solution that seamlessly works with any existing firewall to allow the flow of SIP traffic to reach the user in the enterprise, no matter where the user is located.
Ingate secures and simplifies deployments of the Lync Unified Communications platform, paving the way for rapid installations that meet the strict security requirements necessary for today's businesses," said Steven Johnson, President, Ingate Systems Inc. "We are proud to have fulfilled all requirements at first test pass, showing that Ingate E-SBCs deliver best-in-class functions and features. The Ingate product line spans over a broad range of product capacities, delivered both on hardware and as software, all at a competitive price point."
Share this story with your friends or work colleagues.  If you want to stay up to date with our latest products, industry news and offers you can sign up to our monthly newsletters, keep up to date with us on Facebook or follow us on twitter @VoIPon.