Yealink, the global Top 5 VoIP Phone Supplier, announced today that its VP530 and T2x Series are successfully compliant with Avaya Inc.'s IP Office #8.1 solutions.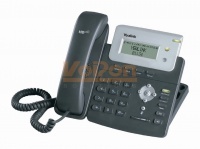 The Yealink VP530 is a popular and powerful business video phone, unified with audio, video and many other applications. Its first-class features provide the customers with superb user experience, optimal productivity and free collaboration. The Yealink T2x Series also met all of the requirements of enterprise telecommunications and give optimal balance between cost and functionality. The Yealink T2x series includes the Yealink T20P,  Yealink T22P, Yealink T26P and the  Yealink T28P. 
Now both Yealink VP530 and T2x Series have completed Avaya's DevConnect technical testing with Avaya Inc.'s IP Office #8.1. This interoperability compliance testing verified Yealink VP530 and SIP T2x Endpoint functionalities in an environment comprised of Avaya IP Office, various Avaya H.323 and SIP IP Telephones.
As the global Top 5 SIP Phone Supplier, Yealink is committed to supplying reliable and cost-effective IP Voice and Video Phones to various customers worldwide." said Stone Lu, Senior Vice President of Sales and Marketing, Yealink Inc. "We are continuing to explore new ways to strengthen the strategic partnership between Yealink and Avaya. By cooperating closely with Avaya, it allows our customers to incorporate new technology easily and uncover new possibilities for getting more out of their communications infrastructure".
Share this story with your friends or work colleagues.  If you want to stay up to date with our latest products, industry news and offers you can sign up to our monthly newsletters, keep up to date with us on Facebook or follow us on twitter @VoIPon.