Grandstream Networks, the leading manufacturer of VoIP Phones and IP video surveillance solutions, jointly announced with Ringio the certification of Grandstream IP Phones, DECT Cordless Phones, Gateways and ATAs (analog telephone adapters) with Ringio's cloud-based Virtual PBX calling service, which helps SMBs improve the quality of their customer interactions. Ranging from single line to 6-lines executive solutions, Grandstream's SIP-based phones featuring advanced voice options, LCD screens, SIP compliance and a host of other phone features are now being provided pre-configured to Ringio customers for an enriched desktop call experience.
At Ringio, our primary focus is on the customer experience," commented Sam Aparicio, CEO of Ringio. "When dealing with IP telephony hardware, it is imperative to have an easy setup, reliability, and quality. Grandstream equipment offers us the ability to provide our customers with a plug and play activation and a high quality product to deliver their business calls to.
Ringio is a CRM-friendly phone solution that helps companies improve the quality of their customer interactions. Inspired by the idea of bringing the very best of large enterprise telephony to smaller companies, Ringio offers a cloud-based, feature rich, and fully extensible SaaS Telephony solution, which intelligently routes calls to any phone along with background information about the caller.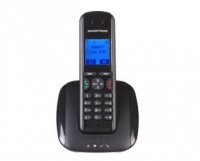 The Grandstream range includes Grandstream GXP1450,  Grandstream GXP1400,  Grandstream GXP1405, Grandstream GXP1165,  Grandstream GXP1160,  Grandstream GXP1100,  Grandstream GXP2124 and  Grandstream GXP2200 Android Desk IP Phone.  Grandstream's GXP Enterprise IP Phones offer Ringio customers superior HD audio, PoE, XML customization, advanced security protection, simple management and automated provisioning options with TR-069 or HTTPs, productivity applications, and many more advanced telephony features, all at market-leading affordability. Grandstream DP715  and Grandstream DP710 Cordless IP Phones offer wide range indoor/outdoor wireless radio coverage, high audio quality, affordability, TLS and SRTP security protection and more. Plug-and-play installation allows businesses to add DP715/DP710 phones to an IP network without the need for physical hard wiring to an employee's desktop or other facility location.
We're pleased to partner with Ringio on bringing sophisticated and affordable IP telephony solutions to their SMBs customers," said David Li, CEO of Grandstream. "Access to business solutions that help the operating expenses bottom line and improve customer service is available and not financially limited to larger companies. We look forward to working with Ringio and continuing to spread the word that business productivity solutions are available, are affordable and are easy to get up and running.
Share this story with your friends or work colleagues.  If you want to stay up to date with our latest products, industry news and offers you can sign up to our monthly newsletters, keep up to date with us on Facebook or follow us on twitter @VoIPon.