Yealink has announced that the Yealink  SIP-T46G VoIP Phone has received a 2013 TMC Labs Innovation Award from INTERNET TELEPHONY magazine.
The Yealink VoIP Phone SIP-T46G represents the next generation of IP phones for business users who need a range of rich telephony features, a friendly user-interface and superb voice quality. The product is seen as a future-proofed infrastructure investment capable of providing a seamless and low-cost switchover to modern GigE-based, high-speed broadband networks.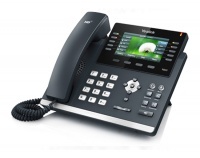 The T46G is part of the Yealink 4xxx series which also includes the Yealink T41P and the  Yealink T42G.
Now in its' fourteenth year, the TMC Labs Innovations Award honors products and services that display true innovation and have advanced the IP Communications industry. Winners were selected by the TMC Labs team and the editors of INTERNET TELEPHONY.
In this year's winners we found a group of truly unique solutions that represent major breakthroughs in communications technology," said Tom Keating, TMC Labs Founder and TMC CTO. "Yealink has proven themselves as an IP Communications leader and their commitment to quality and innovation is evident in Yealink Ultra-elegant Gigabit IP Phone SIP-T46G."
I would like to congratulate Yealink for winning the prestigious TMC Labs Innovation Award," said Rich Tehrani, CEO, TMC. "Yealink Ultra-elegant Gigabit IP Phone SIP-T46G marks a major breakthrough and I look forward to seeing what Yealink comes up with next."
Winners of the 2013 TMC Labs Innovation Award will be published in the July/August 2013 issue of INTERNET TELEPHONY.
Share this story with your friends or work colleagues. If you want to stay up to date with our latest products, industry news and offers you can sign up to our monthly newsletters, keep up to date with us on Facebook or follow us on twitter @VoIPon.