snom technology has announced that their range of snom IP phones are interoperable with Internet telephone service provided by Flowroute.
The snom 7xx series, which includes the 710, 720 and 760, and the 8xx series that includes the 821, and 870, along with the M9 cordless phone, have been rigorously tested and have been certified as interoperable with Flowroute's carrier-grade wholesale prepaid VoIP service. Flowroute offers cost-effective high-quality SIP trunking and direct inward dialing (DIDs). The service is designed for flexibility, scaling from the smallest businesses up to very large enterprise.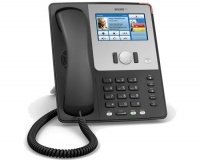 Flowroute, founded in 2007, maintains interconnection agreements with top-tier carriers worldwide, and routes more than 500 million minutes of voice traffic annually.
We are very pleased that our IP phones are now interoperable with Flowroute's VoIP service," said Mike Storella, snom's chief operating officer. "Our ongoing commitment to interoperability with innovative VoIP service providers like Flowroute is a win-win for customers looking for flexible, cost-effective, reliable voice service."
Flowroute separates signaling streams and sends voice packets directly to its gateway through its international network of partners, so customers experience no latency. By eliminating points of failure Flowroute lets customers enjoy high quality service and avoid the problems inherent in circuit switched networks.
It's important that our customers are confident the equipment they choose is compatible with the service they love," said Sean Hsieh, Flowroute founder and chief marketing officer. "We were happy to discover the snom hardware we tested complies with the SIP standards we hold so high."
snom's VoIP phones include snom's eighth-generation Session Initiation Protocol (SIP) firmware, which enables interoperability with a wide range of SIP-based PBXs and softswitches used in small and large enterprises worldwide.
Flowroute is the latest in a growing list of partners snom is adding to its interoperability roster. With more than thirty-five partners and climbing, snom is continually adding VoIP service providers and IP-PBX vendors to the stable of companies with which its IP phones interoperate.
Share this story with your friends or work colleagues. If you want to stay up to date with our latest products, industry news and offers you can sign up to our monthly newsletters, keep up to date with us on Facebook or follow us on twitter @VoIPon.