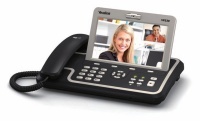 Yealink, the Global Top 5 VoIP Phone Supplier, 2012 was an exciting year for the books. It released its powerful business IP video phone, the Yealink VP530. The VP530 boasts a complete feature set suitable for high-level administrative and enterprise use. Unlike the Yealink VP-2009P, the VP530 isn't limited to one-way video calling, instead offering three-way video conferencing, with all conversation participants viewable on the phone's seven-inch 800 x 480 digital LCD touch screen. Other key features of the VP530 include quality user experience, highly customizable and expandable and broad compatibility.
Always looking to expand its solutions and provide its IP communications solutions to the broadest audience, Yealink announced interoperability with many brands, including Bicom Systems, Avaya DevConnect, AVSystem, BroadWorks, Alcatel-Lucent, Metaswitch, Surf Communications and Robin Telecom. It also attended many industry conferences, expos and trade shows, including ITEXPO, BroadSoft Connection, G-Force, CeBIT and Gitex.
In other exciting news of 2012, Yealink achieved recognition from industry experts. It received awards for:
INTERNET TELEPHONY Product of the Year Award 2012

2012 Global Enterprise IP Telephony Endpoint Growth Leadership Award

Best IP Multimedia Phone Provider

Best IP Phone Provider

Small Gold Medal for IT-SIBERIA.SIBTELECOM

ITSPA's Best VoIP Customer Premises Equipment Award
Unified communications played a big role in the IP communications industry in 2012, which allows users to collaborate anywhere, anytime. IP product innovation included face-to-face IP communication, high-quality user experience and operation simplicity. VoIP communication is also making its way into various industries besides business communications, such as education and healthcare. According to Yealink, the coverage of IP communication has been dramatically improved in 2012.
So, what's ahead for Yealink? In 2013, the company will launch its latest innovative products, such as the DECT Phone. Yealink plans to attend many international industry exhibitions as well, including CeBIT 2013, Mobile World Congress 2013, 21st Convergence India 2013, ITEXPO Miami, Channel Partners Spring 2013, Enterprise Connect, Channel Partners Fall, Metaswitch Forum, ITEXPO West, BroadSoft Connections 2013, Astricon and many more.
In 2013, Yealink will have closer cooperation with industry partners like 3CX, Avaya,  BroadSoft and Metaswitch to provide more powerful and comprehensive service to the global customers. In addition, Yealink plans to devote more source and energy to the R&D department. According to the company, advanced innovation, reliable quality and the integrity of technical service will guarantee that Yealink take a leadership position in the IP industry.
Article Copyright Yealink.com