Sustaining Patton's eight-year winning streak, the SmartNode 4670 VoIP IAD with ADSL Interface has been named INTERNET TELEPHONY 2012 Product of the Year.
Patton, has earned INTERNET TELEPHONY magazine's 2012 Product of the Year Award for the Swiss designed and US-manufactured SmartNode 4670 and Patton SmartNode 4671 VoIP IAD with ADSL Interface.
The 2012 product-of-the-year award, announced on the 14 December, extends the SmartNode brand's winning streak into its eighth year. Other popular Patton products include the SmartNode 4638 and the Patton SmartNode SN4120/2BIS/EUI.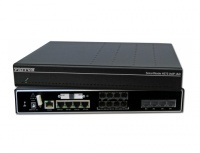 A Patton Gateway SmartNode product has earned the INTERNET TELEPHONY Product of the Year award every year since 2005. Since market introduction in the year 2000, Patton's VoIP Gateway, the SmartNode, has collected a dozen major industry awards. 
"Once again, I congratulate the Patton team for their longstanding commitment to advancing IP communication technologies in the global market," stated Rich Tehrani, CEO, TMC. "For the eighth consecutive year we are pleased to recognize Patton with our Product of the Year Award".
For service providers and enterprises, the SmartNode 4670 lowers hardware costs, simplifies network architecture, and streamlines service deployment. The SN4670 offers flexible interface combinations of ISDN BRI, analog FXS/FXO, and Ethernet/IP—plus integrated ADSL broadband access—in a single device. Session border controller capability includes IP transcoding for up to 8 SIP channels.
"The INTERNET TELEPHONY editorial team chose Patton's SmartNode 4670 VoIP IAD with ADSL Interfacefor delivering the high-quality software, hardware and innovative technology the world has come to expect from Patton," Tehrani explained. "SmartNode delivers reliable, cost-effective VoIP solutions that address real-world business communications challenges."
SmartNode support for all industry-standard CODECs combined with Patton's DownStreamQoS™ ensures clear, uninterrupted voice-and-data communication with toll-quality voice on every call.
Ensuring business continuity through IP network failure, the SmartNode Survivability Suite combines PSTN fallback with SIP Registrar and IP-link redundancy.
For demanding ISDN and DECT environments, a high-precision clock—unique to SmartNode–delivers first-line IP telephony service with reliable FAX and modem performance.
Providing any-to-any multi-path switching, the SmartNode Unified Communications Agent™ (UCA) supports simultaneous SIP, H.323, ISDN, and POTS calls with routing and conversion between TDM/PSTN and IP/Ethernet networks—plus T.38 and SuperG3 FAX. 
Offering a smooth transition to VoIP with strong number-portability support, SmartNode gateways can process PSTN calls throughout the ITSP number-porting process.
2012 Product of the Year winners will be published in the January/February 2013 issue of INTERNET TELEPHONY magazine.
Share this story with your friends or work colleagues.  If you want to stay up to date with our latest products, industry news and offers you can sign up to our monthly newsletters, keep up to date with us on Facebook or follow us on twitter @VoIPon.