snom, a leading developer of VoIP Phones and communications solutions, will debut an expanded line-up of SIP Lync-qualified business phones – highlighting its new, award-winning 7xx series – at ITEXPO East 2013 in Miami this week. snom's standards-based portfolio of IP desktop phones represents the industry's largest and most comprehensive offering of endpoints fully interoperable with Microsoft Lync. snom VoIP Phones are suitable for use in a wide variety of different company models. 
The ITEXPO East 2013 conference and trade show will be held at the Miami Beach Convention Center from January 30 – February 1, 2013.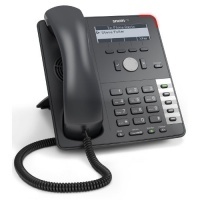 The new snom 710, 720 and 760 IP phones headline the company's comprehensive six-phone snom UC edition line-up, scheduled for display at ITEXPO booth #429. snom's UC phones are the industry's first and largest family of SIP endpoints to earn "Qualified for Microsoft Lync" status – the top designation for full interoperability and integration of standards-based desktop phones in Lync deployment environments.
Off the exhibit show floor, snom will continue to drive the discussion on SIP endpoint interoperability with unified communications, as snom COO Mike Storella joins fellow UC experts in a special panel about Microsoft Lync deployment trends, myths, challenges and solutions.
snom's new UC Apollo firmware offers Lync server provisioning and management features for faster, more efficient configuration and installation of endpoints in multi-site enterprise environments. It offers advanced Lync and popular IP PBX features, including Boss/Admin, Music on Hold, Call Park and integrated presence buttons.
The new snom 7xx series phones, now qualified for Microsoft Lync, offer businesses three models of affordable, full-featured IP phones: the executive level snom 760 UC edition desktop phone, designed for the corner office; the snom 720 UC edition IP phone for the middle manager or information-driven knowledge worker; and the snom 710 UC edition, an entry-level phone for standard workforce.
snom 821 IP Phone: The snom 821 UC edition model is an elegant and well-designed advanced IP desktop phone for the executive or knowledge worker.
snom 3xx series – snom 370 and snom 300 IP Phones: The snom 3xx series of UC edition "Qualified for Lync" phones include the advanced snom 370 UC edition model and the entry-level snom 300 UC edition, the company's most widely deployed business phone.
Share this story with your friends or work colleagues.  If you want to stay up to date with our latest products, industry news and offers you can sign up to our monthly newsletters, keep up to date with us on Facebook or follow us on twitter @VoIPon.