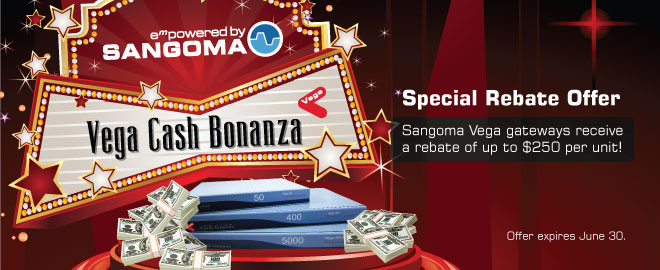 Sangoma is pleased to announce a special rebate offer on Vega Gateways for Sangoma resellers! Purchase any of the qualifying Sangoma Vega Gateways from your authorized "Empowered by Sangoma" Distributor before June 30, 2012, and receive a rebate of up to $250 per unit!
The claim process is quick and easy:
Contact your authorized Sangoma Distributor and purchase a Sangoma Vega Gateway.

After completing your purchase, complete the online form to claim your rebate. Click here to claim.
For each Vega properly purchased and submitted, Sangoma will rebate you up to $250. For the exact rebate amount for each Vega, please see the chart attached.
At the conclusion of each week of the promotion until June 30, 2012, Sangoma will validate your purchases and rebate form submission and authorize payment for the rebate amount. **Note: All rebates are in USD.
Qualifying Sangoma Products
Terms and Conditions
By providing the information requested and submitting this rebate form, you acknowledge and agree to the terms and conditions set forth by Sangoma Technologies Inc. and Distributor.
Valid only on eligible Vega purchases made from April 1, 2012 – June 30, 2012.
There is no limit on the number of rebate submissions per person. While supplies last, no substitutions or rainchecks allowed.
Rebate offer may not be combined with other offers or discounts from Sangoma Technologies.
All rebate request forms must be completed and submitted by June 30, 2012 (12:00 AM EST).
Rebates will only be issued to the original purchaser name as a cheque in US dollars. Sangoma Technologies reserves the right reject incomplete submissions.
Rebates cannot be redeemed after the June 30, 2012 date and/or if rebate promotion terms and conditions are not met. For all approved purchases, Sangoma will issue payment by the end of the July 2012. Rebate cheques will be void if not cashed within 90 days of issuance and will not be reissued. Only actual original purchaser of the qualifying products may participate in this rebate offer.
Availability and terms of offer may change without notice by Sangoma Technologies Inc.