On 10th Apr, 2012,Yealink, a leading provider of VoIP Phone and IP communication solution, announced its release of the advanced executive level IP Video Phone VP530, which the market has been expecting for a long period of time.
Particularly designed for business,Yealink VP530 is unified with audio, video and many applications, it is a powerful business video phone. Its large display and ease of use make the VP530 an ideal all-in-one tool for today's busy executives and managers who attend numerous affairs everyday, whether they are in office, SOHO, healthcare or anywhere else. With its excellent user experience and rich business features, the VP530 creates an immersive, face-to-face experience over the network, empowering users collaborate with each other like never before.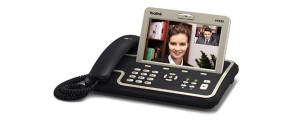 The VP530 joins the
Yealink VP-2009 IP Video Phone
in Yealink's range of Video IP Phones, it  has many first-class features which furnish the customers with superb user experience,optimal productivity and free collaboration. 
As the initiate in the industry, Yealink VP530 provides the leading video conferencing solution — Local 3-Way Video Conferencing, through which users can hold meetings with another two parties, during the video conferencing, the three parties can see them all in the large HD screen, which create an immersive experience for all the members as if they are discussing in the same meeting room, enabling the users to demonstrate and deliver the most what they want other sides to get, without the expensive MCU.
In addition, the VP530 empowers high efficient and ease-to-use Phonebook Solution, and innovative simple-to-manage 3-Touch Dial.  It offers a total directory solution on the intuitive and icon-driven interfaces. It enables to search any entries on the phone or overall searching on the dialing interface with intelligent searching way, the process is smart as your mobile phone.
Moreover, it is highly customizable and expandable. The VP530 features an Open API, XML Browser, Push XML, Action URI/URL, which enables the third-party developers to integrate the VP530 with business applications, such as Enterprise Resource Planning (ERP), Customer Relationship Management (CRM), and specialized applications for certain industries, such as healthcare, hotel, education, with customized language locally.
Despite its abundant features, the VP530 is easy to deploy and manage. Its enterprise-grade, web-based, intuitive configuration method gives administrators the ability to easily provision and maintain a large number of phones throughout the entire enterprise. Integrated Power-over-Ethernet allows easy deployment with centralized powering and backup.