Sangoma have announced the general availability of the Vega Enterprise SBC Series and the NetBorder Carrier SBC (Session Border Controller) VoIP Gateways. The announcement was made from the ITEXPO Miami 2013 Conference and Exhibition, taking place at the Miami Beach Convention Center in Miami Beach, Florida. The highly-scalable line of SBC solutions includes stand-alone devices and solutions for implementation in Virtual Machine (VM) environments.
Sangoma introduced four new SBC models at ITEXPO. The first model, the Vega Enterprise SBC, is a rack-mountable 1u appliance that scales to provide 25 to 500 SIP sessions and includes Sangoma's high-performance hardware-based transcoding engine to ensure maximum session capacity under any load condition. The second model, the Vega Enterprise SBC VM/Software, is a fully-compiled software application suitable for operation in a standard VM environment. The Vega Enterprise SBC VM/Software supports from 25 to 200 sessions and leverages the high-reliability, operational flexibility, and hardware redundancy inherent in a VM environment to deliver unparalleled IP-to-IP security and performance.
Sangoma Gateways support all of the VoIP protocols. Examples of current products include the Sangoma Vega 400 Session Border Controllers, Sangoma Vega Media Gateways and  Sangoma NetBorder Express Gateways.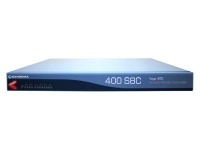 The Vega Enterprise SBC VM/Software product was very simple to deploy in our VM environment, and is the first SBC we've identified to support one-hundred percent of the features of our IP-PBX," said Chris Rawlings, chief executive officer of BlueCloud Consultants, a prominent provider of VoIP services and IT consulting in the Mid-Atlantic region. "Sangoma's reputation for quality and support was certainly proven in our experience. In addition, the pricing and licensing models ensure that we provide the highest-quality and reliability to our customers at a very competitive price."
For deployments requiring more capacity and greater flexibility, the Vega Enterprise SBC VM/Hybrid, the third member of Sangoma's SBC family, is a unique platform that includes scalable session capacity from 25 to 4000 sessions, and ensures high performance by routing all media connections through an external hardware-based transcoding resource. The Hybrid solution takes advantage of all of the benefits of a VM environment, with all SBC functionality being performed by the VM instantiation, without placing unnecessary load on the processor with CPU-intensive transcoding operations.
The entire Sangoma SBC series is developed for efficient deployment and scaling by the end user," said Simon Horton, director of product management for Sangoma. "The licensing model is based solely on SIP sessions, and is fully field-upgradeable without interruption of service. There are no per-feature, per-user, or codec license fees from Sangoma that can inflate the TCO in other SBC products in the market. We anticipate that this highly deterministic cost model will appeal to many businesses that are acutely aware of operational expenses – particularly in the current global economic situation."
According to Infonetics Research principal analyst Diane Myers, rapid expansion in the enterprise SBC market is fueling interest in unique solutions that address key business needs including operational efficiency and security.
"The Sangoma approach that provides a consistent web-based management GUI throughout the product line, enables enterprises already using a VM architecture to integrate SBC functions within the existing operating environment, and incorporates transcoding capabilities right in the box, should engender interest from the enterprise space both in North America and in the company's target international markets," noted Myers.
The NetBorder Carrier SBC is designed to address the operational needs of wide area carriers, including traditional ISPs, as well as SIP Trunking and cloud services providers. This hardened 1u rack-mounted chassis includes optional redundant AC or DC power supplies, a RAID 1 solid state drive, and supports from 400 to 4000 unique sessions with hardware-based transcoding. A linear-cost session licensing model ensures predictable cost modeling, and the NetBorder Carrier SBC provides unmatched session capacity in a 1u footprint.
"The Vega and NetBorder SBC solutions are built to be highly cost-effective workhorses in both the carrier and enterprise markets," continued Horton. "The incorporation of Sangoma's high-performance transcoding engine augments the fundmental security capabilities that everyone expects from any SBC, to deliver a unique and efficient solution that can grow to meet the demands of nearly any implementation."
Share this story with your friends or work colleagues.  If you want to stay up to date with our latest products, industry news and offers you can sign up to our monthly newsletters, keep up to date with us on Facebook or follow us on twitter @VoIPon.