Yealink has officially announced the release of its next generation SIP cordless phone, the Yealink W52P and W52p Additional Handset.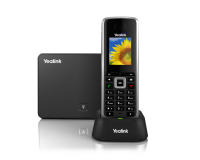 Made specifically for small-to-medium sized businesses or small office/home office (SOHO) operations in the market for cost-saving yet scalable SIP-based mobile communication systems,  the W52P represents the epitome of everything Yealink has learned over the past decade about designing powerful yet delicate IP phones. 
Yealink have a well established VoIP Phone portfolio that features products such as the T18P, the T22P, the T32G and the VP-530.  
Equipped with a full duplex speakerphone in G.722 bandwidth, the W52P meets the most stringent professional HD Voice standards, and is meant to impress with its innovatively brilliant broadband sound. Its integrated power-over-ethernet (POE) technology pushes forward modern standards of installation, allowing different sized organizations to enjoy more flexible, efficient network designs, while providing environmental protection and low-carbon emission. Also including enhanced versions of standard IP DECT phone features and accessories- such as call waiting, LCD, speaker, headset- the W52P displays supreme quality under the strictest testing, and the highest levels of operation simplicity while still increasing its specialization.  
Yealink's W52P broad compatibility inherits all the functions and interoperability of its predecessor- the SIP-T2X, heralded by All-Over-IP Forum as the best all-around series of IP phone- ensuring you additional best-in-class capabilities while refusing to compromise its existing top-of-the-line infrastructure.  
Share this story with your friends or work colleagues.  If you want to stay up to date with our latest products, industry news and offers you can sign up to our monthly newsletters, keep up to date with us on Facebook or follow us on twitter @VoIPon.