Yealink are offering a webinar, centered around innovations in the VoIP industry. Yealink offer an extensive range of VoIP Phones, designed to cover any budget range.
Recently Yealink have introduced three new VoIP phone models, the  Yealink T46G, the Yealink T41P and the Yealink T42G.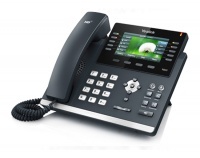 Yealink have released the following about the latest webinar, due to take place on the 25th July 2013, 2:00PM ET/11:00AM PT . 
In today's rapidly changing world, it's safe to say that new innovations are brought to life every three or five years at best. The majority of these innovations have fundamentally changed people's lives. One example of this can be seen in the VoIP industry, which has witnessed continuous changes thanks to the updating and upgrading of high-speed Internet, the overwhelming adoption of smartphones, the powerful influence of hosted and cloud services and the increased awareness of environmental protection. All of these have contributed to the rapid development of IP phones. 
The webinar will discuss the future developments in IP phones, as well as how to choose a future-proofed IP phone in order to secure an investment.  The webinar will include tips on:
How to identify an ideal IP phone in the era of Gigabit and 4G network
How IP phones and bring your own device (BYOD) collaborate with each other in conjunction with wireless and mobile devices to boost your work efficiency
How you can benefit from your IP phones in terms of reducing carbon emissions
Can IP phones deliver the same ultimate user experience as smartphones?
Who should attend: 
CTOs, CIOs, Network Architects
IT Directors
Product Managers and Technicians from large enterprises or large ITSPs
Infrastructure Specialists
Systems Integrators
IT Generalists
Presenters: 
Mike Hou, FAE Manager, Yealink
Dawson Cai, Senior Product Manager, Yealink
Moderator: Rachel Ramsey, Web Editor TMCnet
Participants can sign up for the webinar here. 
Share this story with your friends or work colleagues. If you want to stay up to date with our latest products, industry news and offers you can sign up to our monthly newsletters, keep up to date with us on Facebook or follow us on twitter @VoIPon.