snom have announced  new auto-configuration capabilities for the snom UC edition 7xx series and snom 821 business VoIP phones, designed to simplify and speed Microsoft Lync deployments in enterprise environments.
snom will showcase these Lync-compatible phones, as well as its entire expanded portfolio of standards-based, Lync-qualified UC edition phones, at booth #425 of Enterprise Connect 2013 from March 18-21 at the Gaylord Palms Convention Center in Orlando, FL.
The 7xx series and snom 821 UC edition are part of the snomVoIP phone range and feature new base firmware that enables the phones to natively connect to the Lync server for out-of-the box configuration, enabling fast and streamlined provisioning for these SIP-based phones in multi-site enterprise Microsoft Lync environments.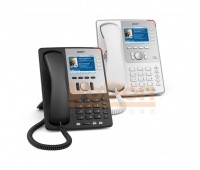 snom continues to find new ways to simplify Lync with Voice deployments by improving connectivity and compatibility of standards-based snom UC edition phones," said Dr. Michael Knieling, Managing Director, snom technology AG. "We're the first standards-based Lync-qualified phones to offer plug-and-play integration with Lync, taking our phones a step beyond other market options. Our easy configuration process and new features will continue to address critical Lync Voice requirements in enterprise businesses."
The snom 7xx series – featuring the snom 710, snom 720 and snom 760 IP phones, along with the snom 821, employ the company's Apollo firmware and have passed the Microsoft Compatible Devices Program's rigorous testing process for full qualification and certification with Lync. The snom UC edition portfolio offers businesses a wide range of phones covering any deployment requirement – from factory floor and lobby models to executive desktop devices.
The new snom 7xx series of Lync-qualified phones offers businesses three models of affordable, full-featured IP phones: the advanced executive snom 760 UC edition desktop phone for senior managers and knowledge workers, featuring excellent audio, PBX-style keys and rich visual information; the snom 720 UC edition IP multi-purpose manager-level desktop phone, also offering advanced audio and rich visuals; and the snom 710 UC edition, a general office phone for the cubicle workforce, appropriate for small or large-scale deployments in a multitude of business scenarios. All phones feature a sleek, ergonomic design, support for high definition wideband voice, programmable function keys and an intuitive user interface with integrated Lync features.
snom 821 IP Phone: The snom 821 UC edition desktop phone is an advanced IP desktop model for the executive or knowledge worker. It features a sleek and elegant design, high resolution color display and advanced presence features integrated with call history and the contact list.
snom also revealed support for several enhanced Lync features for its snom UC edition phones, now in an advanced development stage and set for release in the coming months.
Enhanced Better Together: Deeper integration and support for Lync collaboration and calling features, including Click to Call.
802.1x Authentication: Robust, wired endpoint security for Lync with voice deployments.
Lync Conference User Interface: Enhanced, seamless user experience for joining and participating in Lync web conferences, using snom UC edition phones.
Select snom UC edition models feature a combination of Lync's most advanced features, including the ability to add multiple people to an existing call, Boss/Admin, Call Park, Music on Hold, search capabilities for global and Lync contacts and call transfer capabilities to mobile phones. All models offer easy configuration with PIN authentication and manageability features that include automatic updates.
snom's endpoint out-of-the-box provisioning provides a huge benefit to businesses and Microsoft Partners, who will value plug-and-play configuration from the phone to Lync server infrastructure," said Mike Storella, COO, snom technology Inc. "snom's standards-based SIP Lync-qualified phones continue to raise the bar, offering the same high quality Lync compatibility, features and integration as comparable Lync-compatible endpoints, but at a far more affordable price."
Share this story with your friends or work colleagues. If you want to stay up to date with our latest products, industry news and offers you can sign up to our monthly newsletters, keep up to date with us on Facebook or follow us on twitter @VoIPon.