New software package version 1.2.5, for 2N NetSpeaker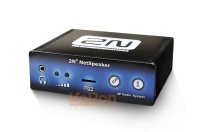 The 2N NetSpeaker now comes with new software package version 1.2.5, which offers a number of improvements, new functionality and new graphics sure to be appreciated by all audio enthusiasts.
The biggest change is the automatic connection of 2N NetSpeaker boxes to the server, which it will find in the network and display on a control panel for possible further configuration.
Another feature is the automatic generation of playlists. Just enter the directory path to your music file and the server will take care of the rest itself. The new version expands supported formats with .wma, .wav, .mp3. Users will also appreciate the ability to plan internet radio sessions to be played according to a planner or the ability to play content from SD cards on loss of online playback.