Yealink has announced the release of the T4 Series IP Phones, designed specifically for consumers who expect integrated communication to come with excellent functionality and ultra-smart design. 
The SIP-T46G, SIP-T42G and SIP-T41P all represent the next generation of Yealink VoIP phones for business users who need a range of rich telephony features, a friendly user-interface and superb voice quality. All three are seen as a future-proofed infrastructure investment capable of providing a seamless and low-cost switchover to modern GigE-based, or in the case of the SIP-T41P cost-efficient 10/100M Ethernet, high-speed broadband networks.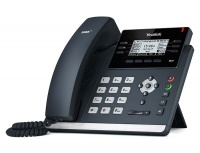 The SIP-T46G and SIP-T42G have dual-port Gigabit Ethernet connections that offer a range of flexible installation options. They also ensure much lower cabling costs. Extra-large 4.3 inch 480 x 272 pixels, high-resolution, TFT color display screens mean that caller information is always shown very clearly with high illumination. In addition, the user-interface (UI) for each model is designed for clarity and intuitive operation.
Further features include USB Bluetooth support for easy Bluetooth earphone use. Enhanced sound quality is delivered by the Optima HD Voice system which meets TIA 920 certification standards. 
Revolutionary in appearance with many advanced technical features, the convenient and easy use of the T4 Series is designed to make pen and paper redundant in busy office environments and represents the cutting-edge of contemporary VoIP technology in action.
Two accessories enhance performance. The first is the EXP40 Expansion Module for the SIP-T46G. This is designed to take SIP phone functional capability to a new level. It uses a large backlit graphic LCD and two pages of 20 flexible buttons. These are shown on the display and can be programmed for up to 40 productivity-enhancing features. 
The second accessory is a Bluetooth USB dongle which adds connectivity to the SIP-T46G through a wide variety of Bluetooth headsets. This allows users to receive calls wherever they are in the office. 
Share this story with your friends or work colleagues. If you want to stay up to date with our latest products, industry news and offers you can sign up to our monthly newsletters, keep up to date with us on Facebook or follow us on twitter @VoIPon.