snom Technology has announced that Telinta Inc has developed auto-provisioning profiles for both the snom 7xx series and 8xx series or snom IP Phones.
The snom 7xx series features the  snom 710, the  snom 720 and the snom 760. The snom 8xx series features the snom 821 and the snom 870. 
Telinta's auto-provisioning profiles enable VoIP service providers to easily deploy large numbers of snom desktop IP business phones via Telinta's cloud-based switching, billing and customer management platform.
These profiles are intended to support large deployments of snom IP phones without the need for manual configuration, saving IT and telephony staffers' precious time and money.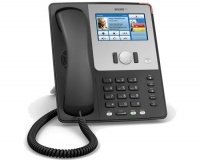 Service providers can easily create an inventory of snom phones using Telinta's simple web portal. When the phones are connected to an IP network, they will automatically recognize and connect to Telinta's provisioning servers to download a complete configuration profile.
The result is that large, multi-site deployments are quick, easy and best of all, error-free.
We are committed to making deployment of our IP desktop phones as seamless as possible," said Mike Storella, chief operating officer of snom Technology Inc. "Telinta's industry-leading platform and automated solutions, which harness the power of the cloud for painless provisioning, help us to realize this goal for our customers."
Auto-Provisioning Profiles are extremely attractive to service providers offering IP PBX, call centers or any type of large-scale deployment for enterprise customers," said Alex Ferdman, CEO of Telinta. "This is the perfect solution for VoIP service providers who require high-quality IP phones from an industry leader like snom, together with an automated solution for easy provisioning from Telinta."
The Auto-Provisioning Profile for snom IP phones resides in Telinta's TeliCoreTM switching, billing and customer management platform. TeliCore integrates world-class carrier-grade Switching and Billing capabilities from PortaSwitch, with Telinta's own proprietary enhancements. TeliCore is the largest hosted softswitch installation of its type, anywhere in the world.
For snom, today's news represents just the latest way in which the company is making it easier for customers to provision its IP phones. In March snom announced auto configuration firmware for snom 7xx series UC edition and snom UC edition 821 IP phones, enabling fast, streamlined and native connectivity to Microsoft Lync servers for out-of-the-box configuration in multi-site enterprise Microsoft Lync environments.
Share this story with your friends or work colleagues. If you want to stay up to date with our latest products, industry news and offers you can sign up to our monthly newsletters, keep up to date with us on Facebook or follow us on twitter @VoIPon.