snom have announced that TMC, a global, integrated media company, has named the snom 7xx series of IP phones as a recipient of the 2012 INTERNET TELEPHONY Product of the Year Award. The snom 7xx series is part of snom's VoIP Phone range and it includes the snom 710, the snom 720 and the snom 760 VoIP Phones.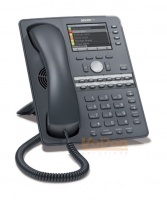 These phones, now qualified for Microsoft Lync, offer businesses three models of affordable, full-featured IP phones: the executive level and snom 760 desktop phone, designed for the corner office; the snom 720 IP phone for the middle manager or information-driven knowledge worker; and the snom 710, an entry-level phone for standard workforce. All phones feature a sleek, ergonomic design, support for high definition wideband voice, programmable function keys and an intuitive user interface with integrated Lync features.
For the second year in a row the snom 7xx series of IP phones has been recognized as an INTERNET TELEPHONY Product of the Year," said Michael Knieling, Chief Operating Officer of snom technology AG. "Our introduction of the snom 710 in September rounded out the series with a dynamic entry-level business phone and the recent qualification of the 7xx series for Microsoft Lync adds versatility for resellers and businesses. Thank you to INTERNET TELEPHONY for this recognition and honor."
snom is committed to building partnerships for the snom 7xx series and other products with standards-based SIP technology providers. All snom phones are designed for interoperability with all types of partners – from premise-based IP PBX for small business to large service provider cloud-based VoIP services/hosted IP PBX and Unified Communications platforms.
It is with pleasure that we recognize snom with a Product of the Year Award. The editors of INTERNET TELEPHONY have verified that 7xx series displays quality and innovation while providing solutions to real business communications challenges," stated Rich Tehrani, CEO, TMC. "I would like to congratulate the team at snom for their commitment to advancing IP communication technologies."
2012 Product of the Year winners are published in the January/February 2013 issue of INTERNET TELEPHONY magazine. INTERNET TELEPHONY has been the authority in IP communication since 1998™.
Share this story with your friends or work colleagues.  If you want to stay up to date with our latest products, industry news and offers you can sign up to our monthly newsletters, keep up to date with us on Facebook or follow us on twitter @VoIPon.