Yealink has announced that TMC, a global, integrated media company, has named the Yealink VP530 Video Phone as a recipient of the 2012 INTERNET TELEPHONY Product of the Year Award.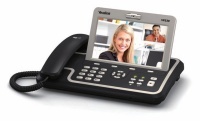 The Yealink VP530 is part of Yealink's VoIP Phone Range and is an advanced executive IP video phone which seamlessly unifies audio and video applications . The VP530 lets end users unleash the power of collaborative technologies to enhance the professionalism and productivity of their business communications. Easy-to-use and rich in empowering business features makes the Yealink VP530 an ideal choice to a variety of executive and managerial environments, including Blue Chip, SME, SoHo and public sector offices.
We are very pleased to know that our VP530 Video Phone is awarded the 2012 Internet Telephony Product of the Year, " said Stone Lu, Senior Vice President of Sales and Marketing, Yealink, "and we are committed to bringing a wealth of innovative technologies and devices to the IP telecommunication community."

"It is with pleasure that we recognize Yealink with a Product of the Year Award. The editors of INTERNET TELEPHONY have verified that VP530 displays quality and innovation while providing solutions to real business communications challenges," stated Rich Tehrani, CEO, TMC. "I would like to congratulate the team at Yealink for their commitment to advancing IP communication technologies."
2012 Product of the Year winners are published in the January/February 2013 issue of INTERNET TELEPHONY magazine. INTERNET TELEPHONY has been the authority in IP communication since 1998™.
Share this story with your friends or work colleagues.  If you want to stay up to date with our latest products, industry news and offers you can sign up to our monthly newsletters, keep up to date with us on Facebook or follow us on twitter @VoIPon.