Yealink, the global Top 5 SIP Phone Supplier and Leonid System, the leader in hosted VoIP OSS software announced today their technology partnership with the successful launch of the Loki Visual Device Management plugin for the Yealink VP530. 
As a global Top 5 SIP phone supplier, Yealink has been focusing on VoIP products characterized by reliable quality, easy deployment and affordable price for more than a decade, including three product linesbusiness IP phones, IP video phones and IP DECT phones. The Yealink VP530, a popular powerful business video phone, is unified with audio, video and many other applications. Its first-class features provide customers with superb user experience, optimal productivity and free collaboration. VP530 and other Yealink IP phones are fully compatible with BroadWorks Device Management, Yealink works closely with BroadSoft, the leading global provider of software that enables operators to deliver real-time Unified Communications (UC) over their IP networks, in order to provide seamless touch from the user's desk phone to BroadSoft UC-One services.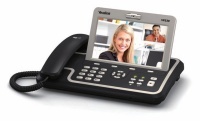 The Loki Suite is the most widely deployed OSS solution for hosted VoIP services.  The Loki Suite includes Loki Provisioning, an activation engine for Hosted VoIP services and Loki Portals, and enterprise portal for Hosted VoIP services.  The Loki Suite's Visual Device Management (VDM) feature allows operators to template soft-key layouts for hosted pbx users, and allows enterprise administrators to change line keys and feature keys from a web browser.  
As a global Top 5 SIP Phone Supplier, Yealink is committed to supplying reliable and cost-effective IP Voice and Video Phones to various customers worldwide." said Stone Lu, Senior Vice President of Sales and Marketing, Yealink Inc. "Cooperation with Leonid Systems is very important for us, the Joint solution between Yealink  and Leonid Systems will bring easy and convenient deployment experience to our customers."
Most operators believe that Visual Device Management is key to competing against the PBX in the enterprise market, our partnership with Yealink allows us to bring a VDM-compliant device to market in a very disruptive way", said Jan Lindner, CEO of Leonid Systems.  "We expect this partnership to increase price-performance in the SMB and Large Enterprise space."
Share this story with your friends or work colleagues. If you want to stay up to date with our latest products, industry news and offers you can sign up to our monthly newsletters, keep up to date with us on Facebook or follow us on twitter @VoIPon.