Sangoma A116 Provides 16 Digital Telephony Spans on a Single Board for Server-based Telecom Platforms
Sangoma, a leading provider of Asterisk Hardware, VoIP Gateways and software that enable or enhance IP Communications Systems for both voice and data, announced the release of its A116 16-Span Digital Telephony Interface Board. Designed for simple integration with open source projects, including Asterisk and FreeSWITCH, as well as other open source and proprietary PBX, Switch, IVR and VoIP Gateway applications, the A116 provides unmatched density of full duplex span interfaces in a single PCI Express compliant board.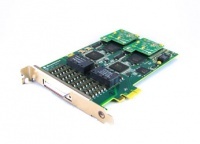 The continuous increase in processor speed and capacity in server CPUs are challenging solution developers to compress more interfaces and capabilities into a single server to take advantage of the processor power and maximize system efficiency, The Sangoma A116 is the only solution in the market that supports 16 spans in a single board that occupies just one slot in the server. Doubling the capacity of a single board really opens up new avenues for innovation and design flexibility.  said Julien Nephtali, Sangoma product manager. 
The Sangoma A116 is a PCI Express compliant board that terminates 16 digital telephony spans compatible with TI, E1, and J1 standards, selectable by span, as well as supporting up to 480 simultaneous voice calls. Full duplex data rates of 32.8 Mbps gives full bandwidth access for data applications, and optional carrier-grade hardware-based echo cancellation for VoIP applications. In addition, the A116 features crash-proof firmware that is field upgradeable.  The A116 can be purchased in two models the  Sangoma A116E PCIe, 16 spans, no H/W Echo Cancellation and the  Sangoma A116DE PCIe, 16 spans, with H/W Echo Cancellation which join its large number of advanced Sangoma PRI Cards.