Upgrade your purchase of the T46S to the Yealink T54W at no extra cost for a limited time only. To receive this deal, please contact a member of our sales team on  +44 330 088 0195.
The T54W is an easy-to-use Prime Business Phone with an adjustable 4.3-inch colour LCD screen that you can easily and flexibly find a comfortable viewing angle for personal and environmental needs.
The T54W is designed with Yealink Acoustic Shield technology to deliver distraction-free voice clarity for remote participants by utilising multiple microphones to create a virtual shield.
T54W Supports DECT handset compatibility via a DECT dongle Yealink DD10K, up to 4 cordless handsets. Seamless switching of calls between the desktop phone and the cordless DECT handset.
It also features built-in Bluetooth 4.2 for wireless headsets connection and enhanced mobility and Wi-Fi 2.4G/5G to help business maximise the use of wireless network, reduce internet cable cost and support clean and uncluttered workspace communications.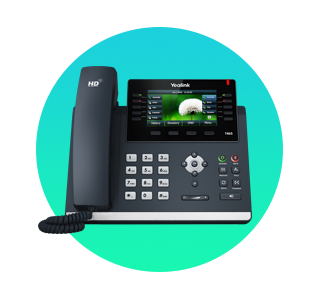 4.3″ colour display
Adjustable stand
Wi-Fi/Bluetooth via dongle
Up to 16 SIP accounts
Dual-port Gigabit Ethernet
PoE support
Opus codec support
Paperless label design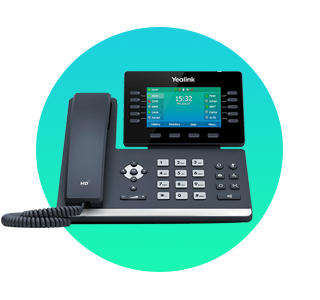 4.3″ colour display
Adjustable LCD screen
Built-in Bluetooth/Wi-Fi
Up to 16 VoIP accounts
Dual-port Gigabit Ethernet
PoE support
Paperless label design
Wall mountable
Want to expand your communications solution further? Check out the full range of Yealink products below! If you have any specific requirements, please contact our technical sales team on +44 330 088 0195.