VoIPon Solutions has been featured in the November 2014 issue of Comms Business Magazine.
Craig Herrett, Sales Manager at VoIPon Solutions discusses the latest VoIP Phone products on the market from budget handsets to high end feature phones.
 VoIP Phones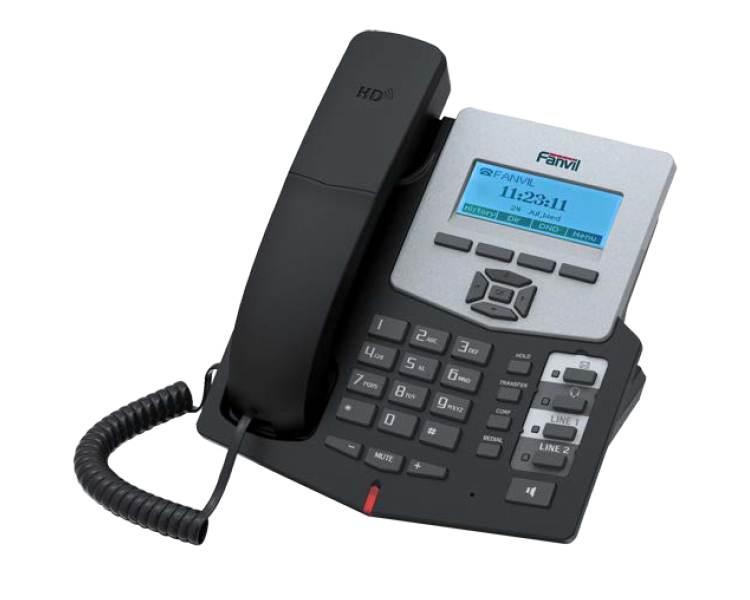 The Fanvil C58 is an affordable midrange IP phone. With 2 SIP Lines, the C58 has optional PoE and features an integrated dual ethernet switch, HD voice and BLF support. The C58 features large buttons, making the phone easy to use and perfect for light to moderate phone users. Fanvil are challenging the budget VoIP phone market with products that are both functional and affordable. Fanvil are also producing video phones such as the Android based D900, featuring a 7 inch touchscreen and camera. 
Price – £61.02 exc. VAT    
 The Yealink T42G is a stylish enterprise VoIP phone with gigabit support and 3 SIP lines. The T42G has Optima HD voice and supports 5 way conferences, along with interoperability with 3CX, Asterisk and Broadsoft. The appearance of the T42G is modern, and the phone has a scratch resistant surface, non-slip rubber feet and a liquid crystal display screen. The T42G is part of the Yealink T4xx series of VoIP phones that also includes the T41P, T46G and the T48G, which is a 7 inch colour touchscreen phone designed for executives and busy professionals.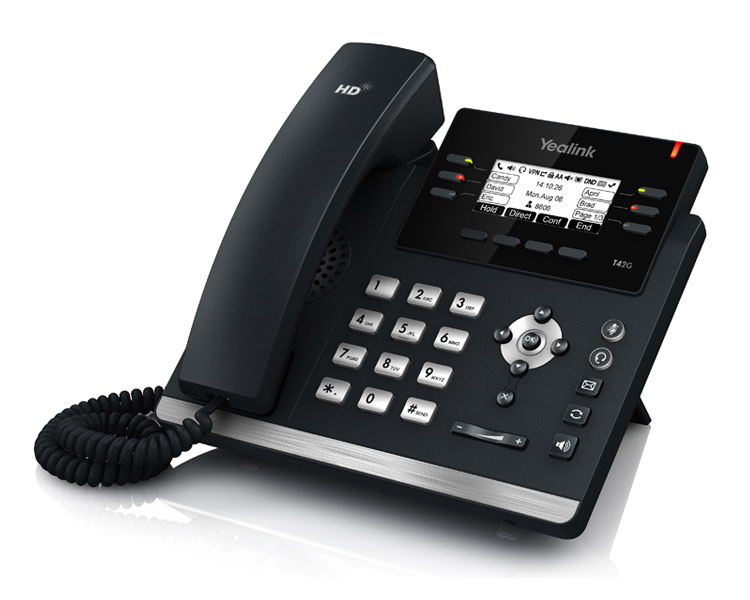 Price – £94.00 exc. VAT
Yealink are also releasing the CP860 VoIP Conferencing Phone. The CP860 will be a stylish and modern looking unit and is expected to allow 10 participants in one conferencing call.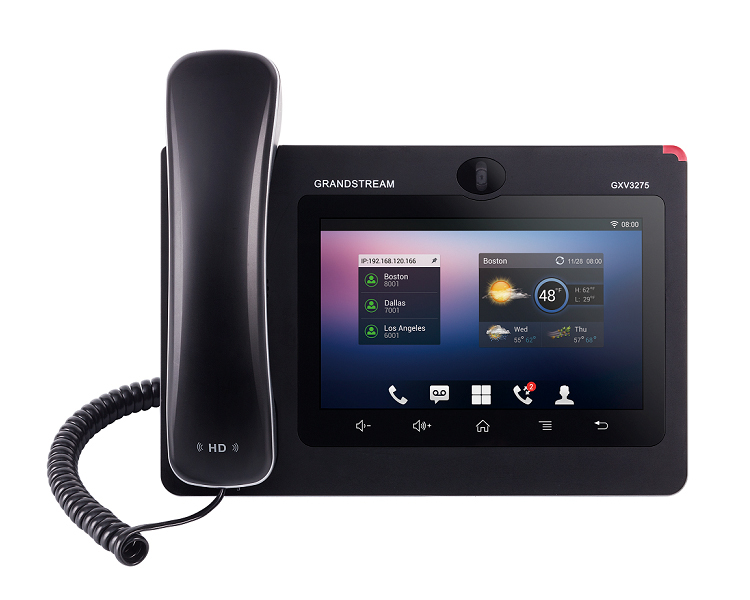 The Grandstream GXV3275 is an IP video phone and features the Android Operating System. Combining a video phone, a multi-platform video conferencing solution and Android tablet in one device, the GXV3275 is an advanced, all-in-one communications solution with 6 lines and a 7 inch capacitive TFT LCD touchscreen.
With the GXV3275 using the Android OS, the phone has access to thousands of apps in the Google Play Store, which includes productivity and business enhancing apps. The GXV3275 Android phone is targeted to SMBs, enterprise, SOHO and mobile workers looking to increase productivity.
Price – £170.73 exc. VAT
The Polycom VVX 600 features a 4.3 inch, gesture based LCD touchscreen. Designed as a premium business media phone, the VVX 600 has 16 SIP line registrations available, making it perfect for heavy phone users and executives.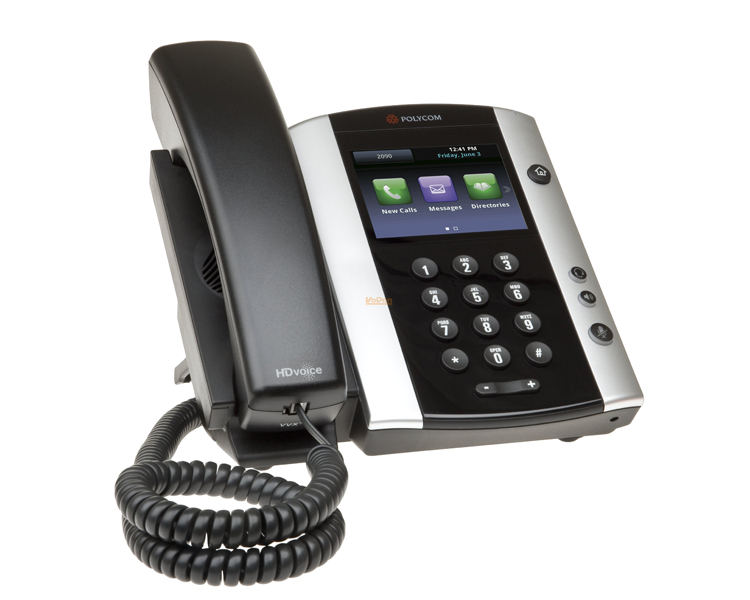 Best in class in the VVX range of VoIP phones, the VVX 600 has Polycom HD voice which ensures outstanding call quality, along with a two-port gigabit ethernet switch and integrated Bluetooth. VVX 600 models are simple to deploy and manage using a web-based configuration tool.
Price – £242.90 exc. VAT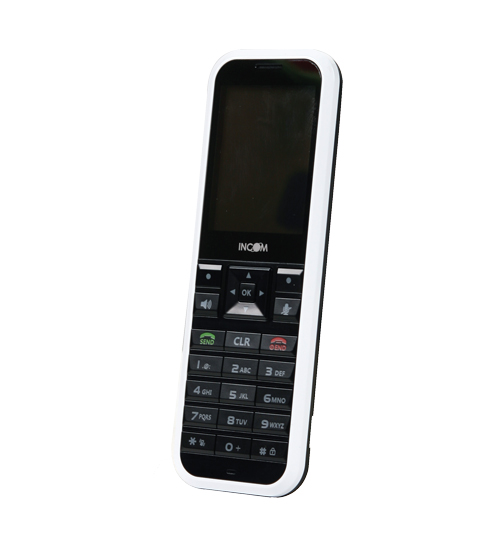 The UniData INCOM ICW-1000G is a SIP WiFi phone that features L2, L3 quick roaming, a long lasting battery life and colour LCD screen. The ICW-1000G supports IEEE 802.11a/b/g/n standards and supports phone features including speed dial, phonebook search during call, redial, adjustable volume levels, speakerphone, and call mute, hold and transfer.
Price – £135.00 exc. VAT
Market Industry Trends
"The desk phone is still alive and kicking. In fact, we are selling more and more IP phones than we did last year and the year before. This could be for a few reasons, one of which is more people are still moving to SIP and therefore buying more IP Phones, which would cover the fact that some may not be replacing their handsets as they move to softphones both on PC and Smartphone.
The trusty mid market value phone is still the highest volume selling piece of hardware, however there are a lot of people upgrading to android based VoIP Phones. No longer is the price the strongest argument for what sits on your desk, now the way it looks is really becoming more and more important. Lots of the feature sets are replicated throughout all levels of phones and customers have not yet experienced what these android based phones can actually do. I believe the feature set will become more and more important, even though I do not believe everyone will utilise them. It will become much like the mobile market. Modern mobile phones can take pictures with a 20 megapixel camera, record HD film, stream HDTV across a 4G network, and share my files to a TV. All I use my desk phone for is making calls, but I still chose an Android based IP phone with an abundance of features, that I do not use. I see less and less requirements for DECT and a growth in WiFi handsets, as the infrastructure improves I can only see this area of the market growing. There is almost an untapped WiFi handset market that can be integrated into Fire Alarms and messaging tools all at a reasonable price. Granted this is not the largest of markets but no-one is truly satisfying this yet, and as such there is very little competition.
The IP Phone market is good and continuing to grow, lots of companies are challenging similar areas such as Fanvil in the value range, and almost ignoring the niche areas, but there is a large opportunity there for the right manufacturer."
Share this story with your friends or work colleagues. If you want to stay up to date with our latest products, industry news and offers you can sign up to our monthly newsletters, keep up to date with us on Facebook or follow us on twitter @VoIPon.